Macie and Sam Litter Diary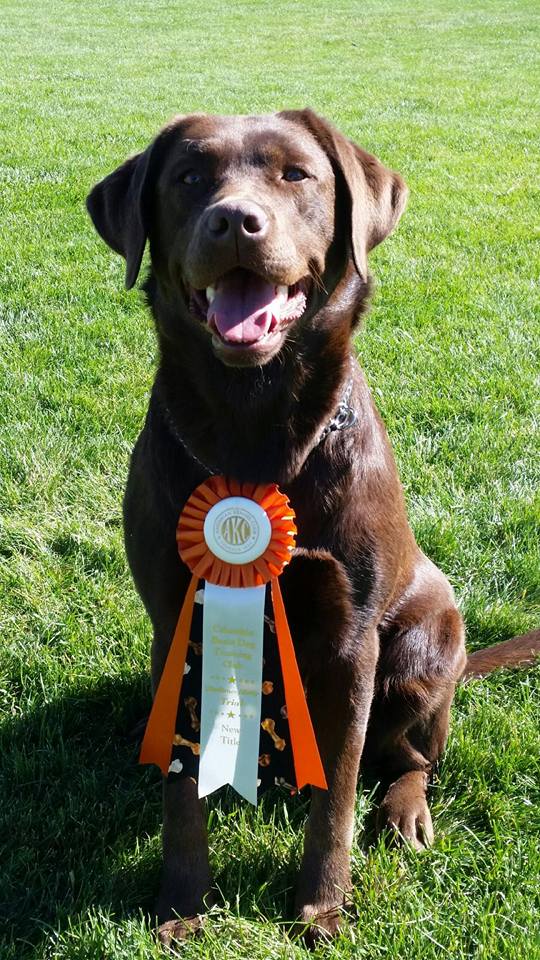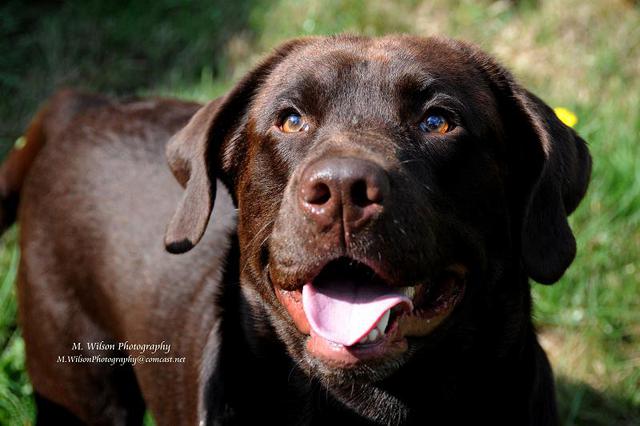 IntCH WindyCanyon's Lethal

Weapon  RA CGC  "Macie"

IntCH WindyCanyon's Raising The Bar CD RE CC "Sam"

This is a breeding I've been waiting for for a long time!    I bred and co-own Sam with Gail Gegg in W. WA, where he lives.    I also have Sonya, a littermate, here who gave me 3 very nice litters up until her breeding retirement about 3 years ago . They  turned 10 in October and are still very healthy and active!    I  liked so much what Sonya produced, that I wanted to get another pup from those lines by Sam,  but didn't have a girl I could safely breed to him (too close genetically)-- until now.   Enter Macie!   I don't own Macie but I bred her (Mason x Kiku, 2013), and when I saw how nicely she was maturing, I asked her owners if they'd consider allowing me to lease her for breeding since they had expressed an interest in breeding sometime down the road in a few years.   They said yes!   We did the first breeding of Macie last year to Macklin (see
litter diary
) which resulted in 12 very healthy, active puppies.    Those pups were so nice, I knew I had to do this breeding to Sam especially after losing Sam's mom, Fuji, earlier this year.  This all chocolate breeding is a very nice linebreeding on Fuji, so as you can probably guess, this is super special to me, personally.   
Nov 21, 2016:   Macie is in "season". 

Dec 2, 2016:   I met Gail at the top of Snoqualmie Pass on this Friday morning so we could try to beat the newest snow storm on its way.   I counted at least 3 accidents at the top of the pass as it was.   Made it home safe and sound, and got our first (and only!) breeding that evening!!!  This should have been very early based on progesterone results of 2.4ng from Wednesday, but by Sunday, Macie wanted nothing to do with Sam and he wasn't nearly as interested in her either!    On Monday, she was at 20.9ng progesterone and already in diestrus, so one breeding was going to be it!   I suspect either a clerical error w/ the lab or for some reason, Macie knew she was already pregnant and didn't feel the need for any more lovin'!!!  :)

Jan 24, 2017:   Up until today, Macie has been at home with her family in Moxee, but they became concerned with her girth increases and discomfort so I decided another vet visit was in order.   We had an  ultrasound and general exam done and it was concluded she only suffered from a pile of puppies inside!  Whew...    she has ~9 days to go, but will now be staying at my house to prepare for the whelp. 

Jan 30, 2017:   Macie's temperature dropped from what had been normal at 100.2F or so, to just below 99F.  Puppies should be on their way in the next 24 hrs or so.

Jan 31, 2017:   First puppy arrives at ~1:15pm, and it's a GIRL!!!  After a very long marathon whelp, puppy #11 arrived on 2/1 at 3:30am.   End count was 9 girls and 2 boys ranging from 10.2 oz to 14.2 oz.  (Sadly, the second to last girl born failed to thrive despite much TLC by all involved, and passed away on her sixth day so we now have 2 boys, 8 girls.)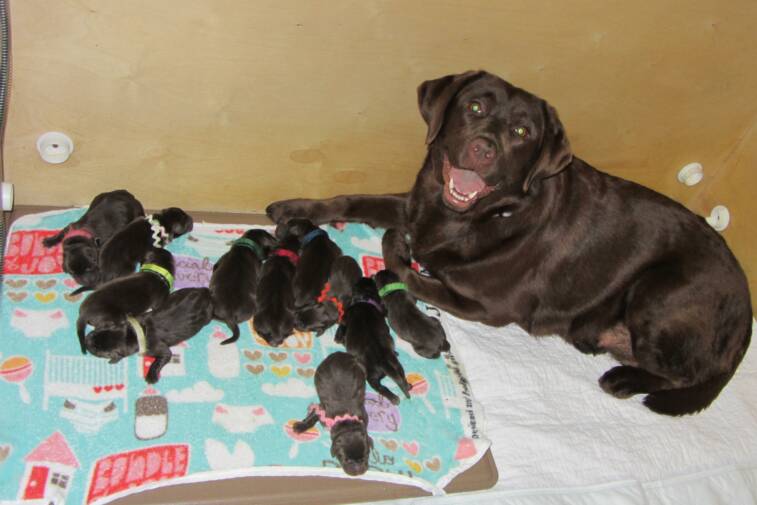 An exhausted but proud mama Macie with puppies just 2-3 hours after completion of whelp!

Feb 03, 2017:   Everyone went to the vet today for dew claw removal and exams, with special attention given to the #10 puppy born (multi colored ric-a-rac ribbon) as she is not nursing well and not thriving to date.   I began bottle feeding her as she's not able to compete with the rest of the gang.

Feb 07, 2017:
  After 6 days of intensive care around the clock, the little girl with the multi-colored ribbon collar  (top left near darker pink collar girl) passed away.  I suspect she had a liver shunt or something along those lines as she failed to ever gain any weight or size at all, despite around the clock warmth, feedings and attention.   This is why most seasoned breeders hesitate to make any firm commitments on puppies until we are past the first critical 2 weeks.    One more week to go for those reading this, but at this time, the remaining 10 puppies appear to be beautiful, healthy, and are gaining nicely every day.   Puppies now weigh from 1.15# to 1.59#.  I started
Early Neurological Stimulation
today and will be doing that daily thru day 16.  Once done w/ the daily routine, I administer Doc Roy Synbiotics (paste form of probiotic) by mouth as well.  I am a firm believer of keeping good "bugs" in the digestive system of my puppies.
Feb 11, 2017:   The babies continue to grow and are more beautiful by the day.   As of last night, weights averaged 2.0# already w/ a range of 1.55 to 2.25#.   I'm really tickled.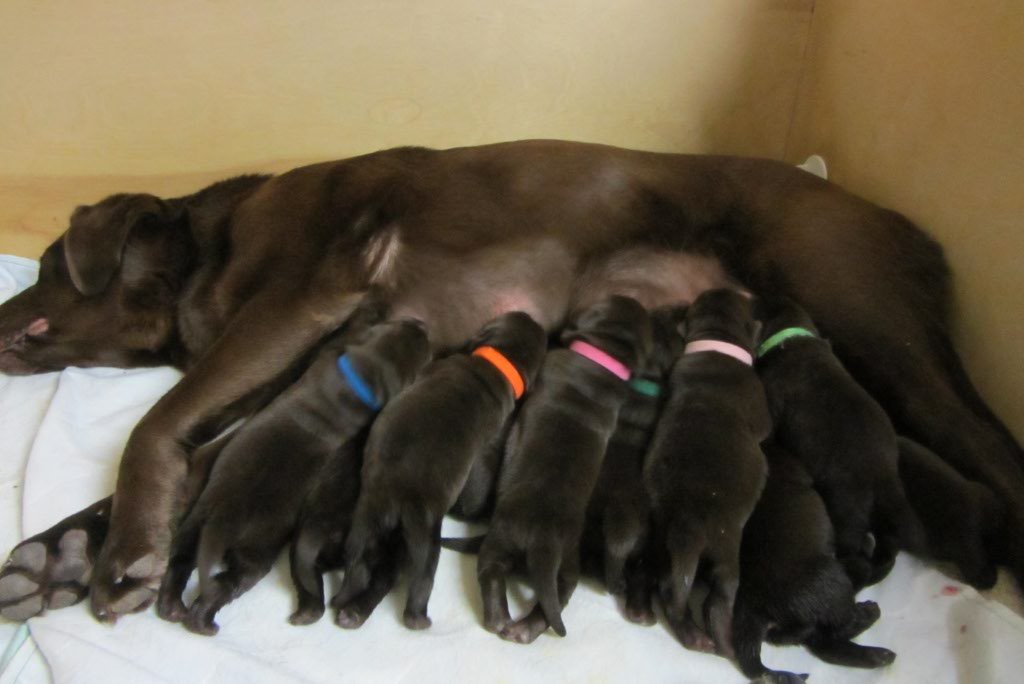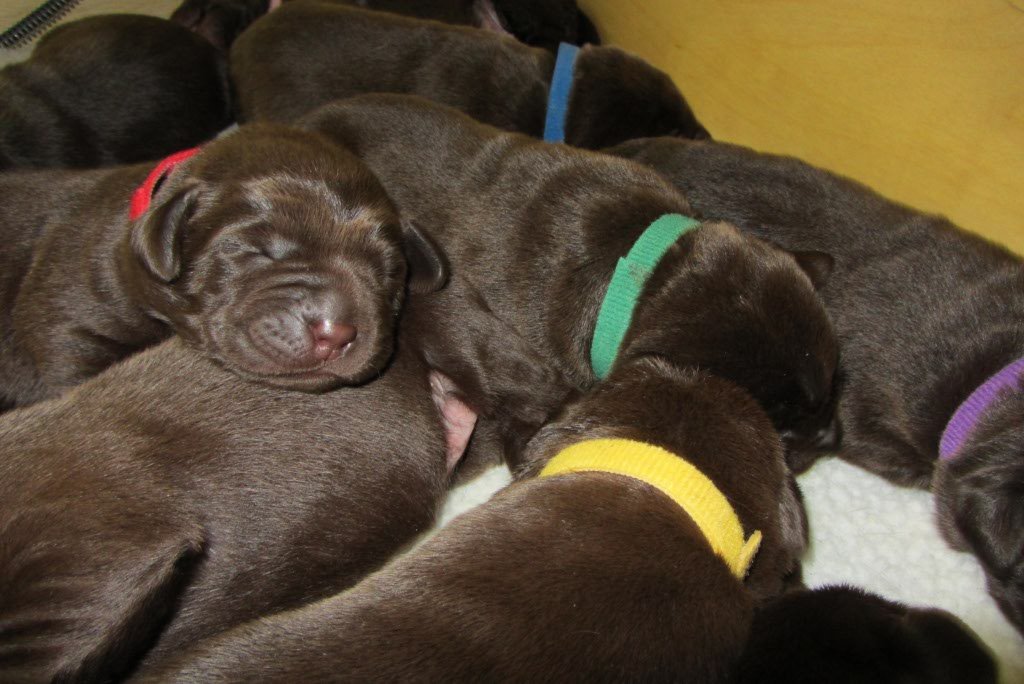 Feb 16, 2017:   Eyes are opening now, starting w/ one of the girls on Tuesday (day 14).   The last of them, the biggest boy, is just starting to crack his peepers today.  I dewormed all with pyrantel pamoate today and will continue to do so every 2 weeks.    They are sure growing, and I think ready for their first gruel very soon since the milk bar is getting quite crowded now!!!   More later, as I have had a crazy busy vet visit / well check / evaluation week with the older litter who will start to leave tomorrow.

Feb 22, 2017:   The babies are 3 weeks old and have my (semi) undivided attention now if you don't count the competition from the big dogs and my work which I'm slowly being able to get back to (and dare I mention I have a lot of office work to get caught up on???).   Last week I finished up the daily Early Neurological Stimulation program right about the same time they were ready for their first meal of gruel.  I just fed the one extra meal per day at first, but they have now started 2 meals a day from me, which consist of Esbilac milk replacer, ground up Eukanuba Small Breed puppy (same as the old weaning formula), N-Zymes BacPak Plus probiotics/ digestive enzymes, and ~1/8 teas of MSM.    At the same time, I began the basics of "potty training" to an area of (stinky) newspaper in the whelping box.  From this point on, I try to be available to help herd the puppies to the newspaper area as soon as they woke up so they hit their target.  They are starting to understand  the concept now with my help.   This will be of great value in another week or so when they get to move to a bigger pen, but in the meantime, it means a lot more work on  my part to keep the rest of the box / bedding extra clean, and understand not to soil their sleeping quarters.    The puppies now weigh between 2.9 and 4.5 lbs, and are getting more mobile by the day.   Here they are enjoying (soaking in?) their first meal!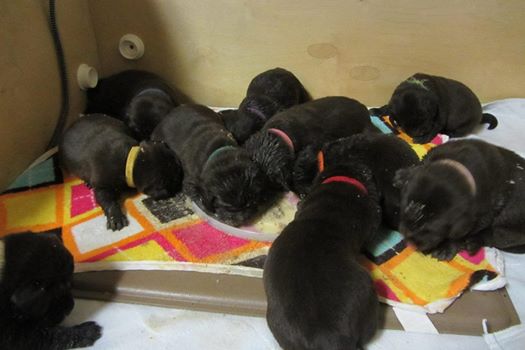 Feb 26, 2017:   3.5 wks old and starting to play more, make more noise, and yes, more "poo"!!!    Good thing the potty training is going well.   Weights now range from 3.6 to 5.5 lbs, and the 10 pups are now eating ~3 C of ground kibble mixed in Esbilac each day.    This amount will go up exponentially from here on out, especially with teeth coming in... mom may not be so happy in a few more days to nurse as much!    Anyhow, they are getting awfully cute, and as you can see, the box seems to be shrinking by the day.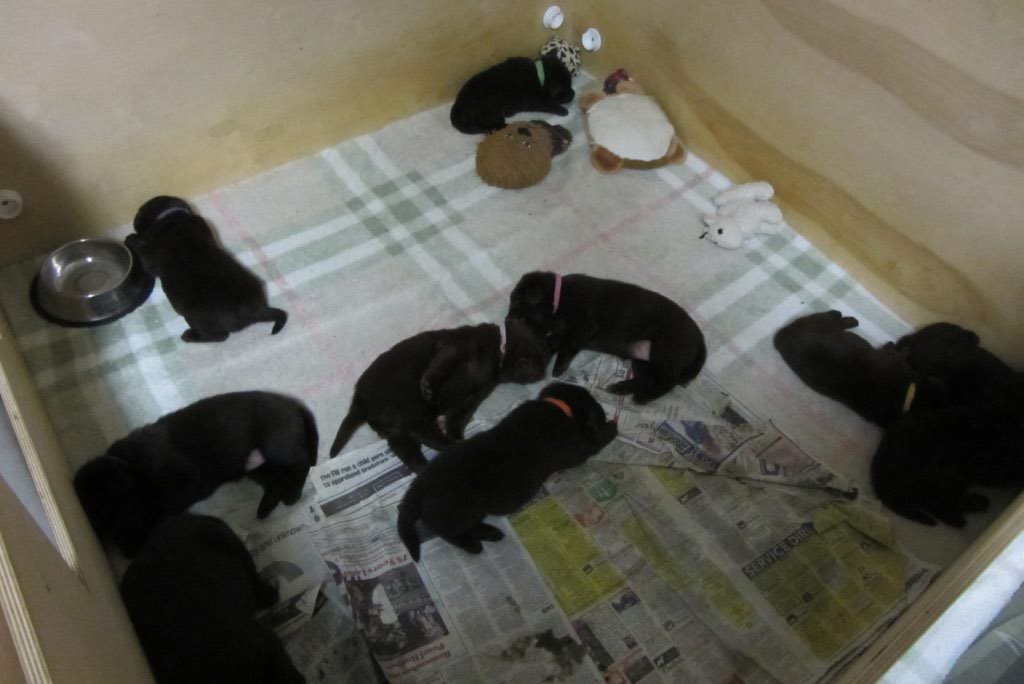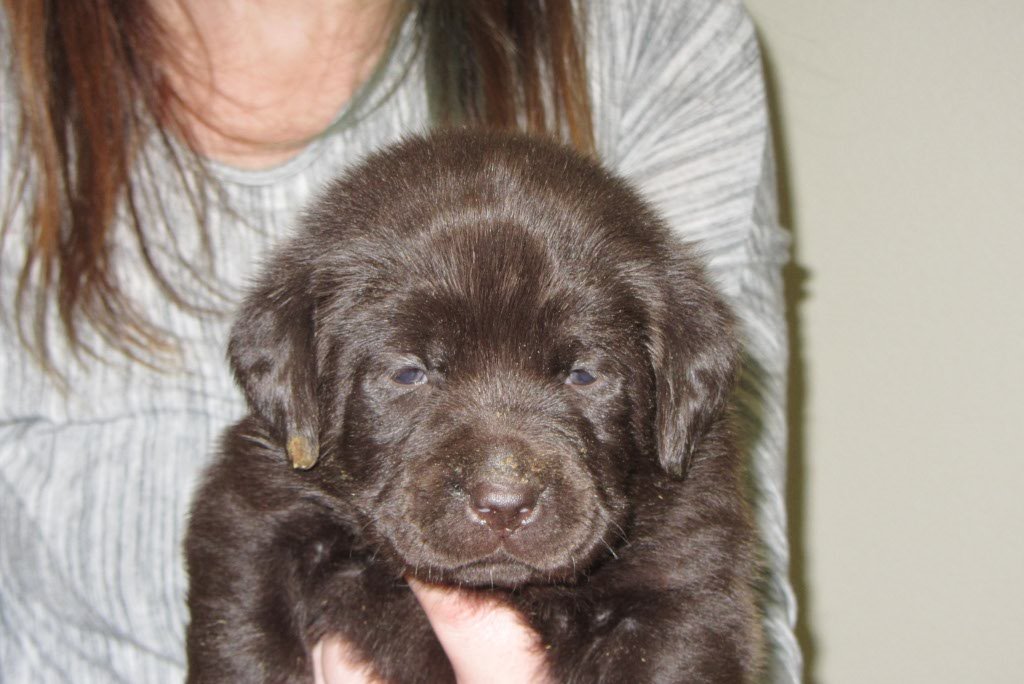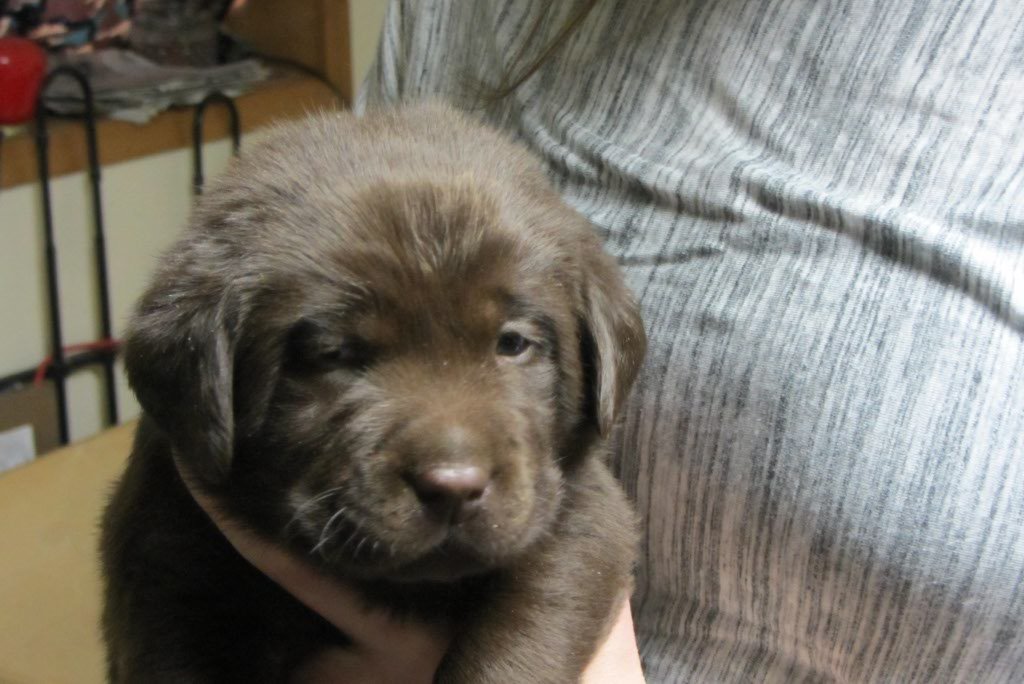 Obviously, some are messier eaters than others!!!

March 3, 2017:   Sorry not to have updated at 4wks but I've been running...   just about the time I think I have time, I get sidetracked by something else!   Anyhow, all are doing GREAT at  4.5 wks old now.   Starting today, the puppies are getting 3 meals per day prepared and served by me.   Dessert is then served by Macie.  :)    They are growing at a really nice rate, doing great on potty training, and definitely getting more active by the day.   Once I'm back from my training session tomorrow, I plan to introduce them to the expen in the garage.. because it's TIME!    Had my first little escapee this morning-- Miss Lime!   She may be one of the smallest pups there, but she did a chin up and cleared the whelping box doorway in nothing flat.  Other fun things this week have included daily play sessions w/ the big dogs while I change out their box.  And oh yes, they got a whiff of their very first quail a few days ago.  The poor guy's navigational system must of failed as he flew straight into my living room window.   RIP Mr Quail... but in the name of game conservation some good will come of this unfortunate event. 

March 6, 2017:   Trying to make up for my lack of updates last week, so here we are at T minus 1 or 2 days from 5 wks already!    Lots happening the past couple days....  For one, the puppies got "evicted" from their box and were "rehomed" to the garage yesterday.    Not to worry, the garage is insulated so sitting at a low of 60F at worst at this time of year w/o supplemental heat.   They are loving it  because now they can see all the big dogs from their domain!   And today, we added a 4th meal today... Yum yum yum... And got to go outside and enjoy a little sunshine (and wind/ blowing leaves) to boot!!! Tomorrow the pups will be vaccinated w/ Neopar, a parvo only vaccine and starting Thursday, some of the families will begin to visit.  I think a car (crated) ride will be on our schedule as well... Papa Murphy's or Chinese food in Selah (5 miles away), perhaps???  Good 'nuff excuse for  me anyhow!!!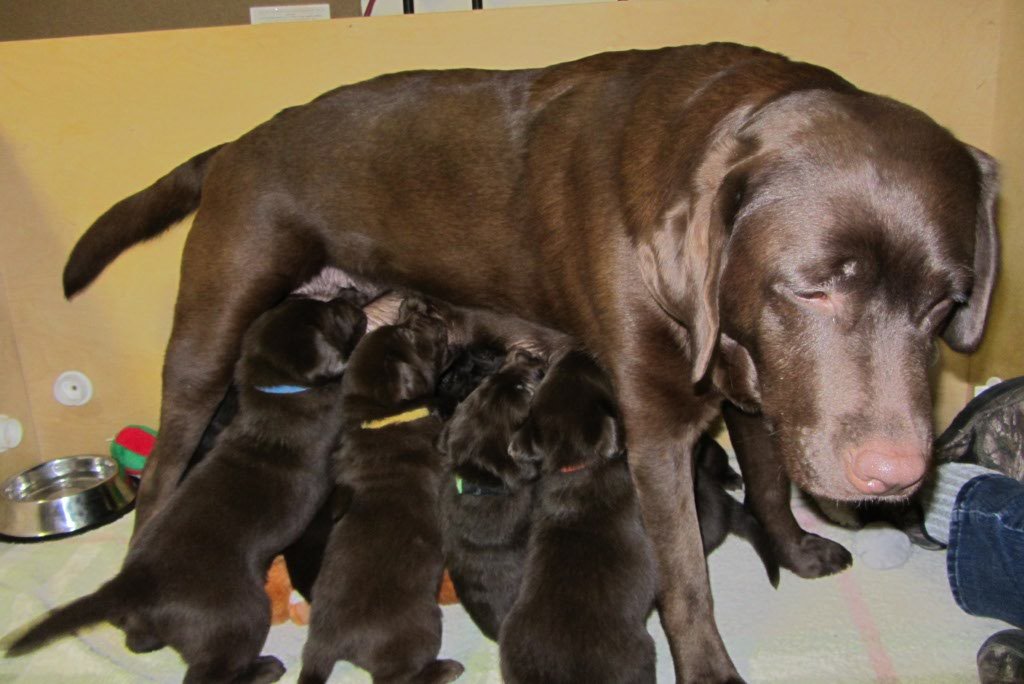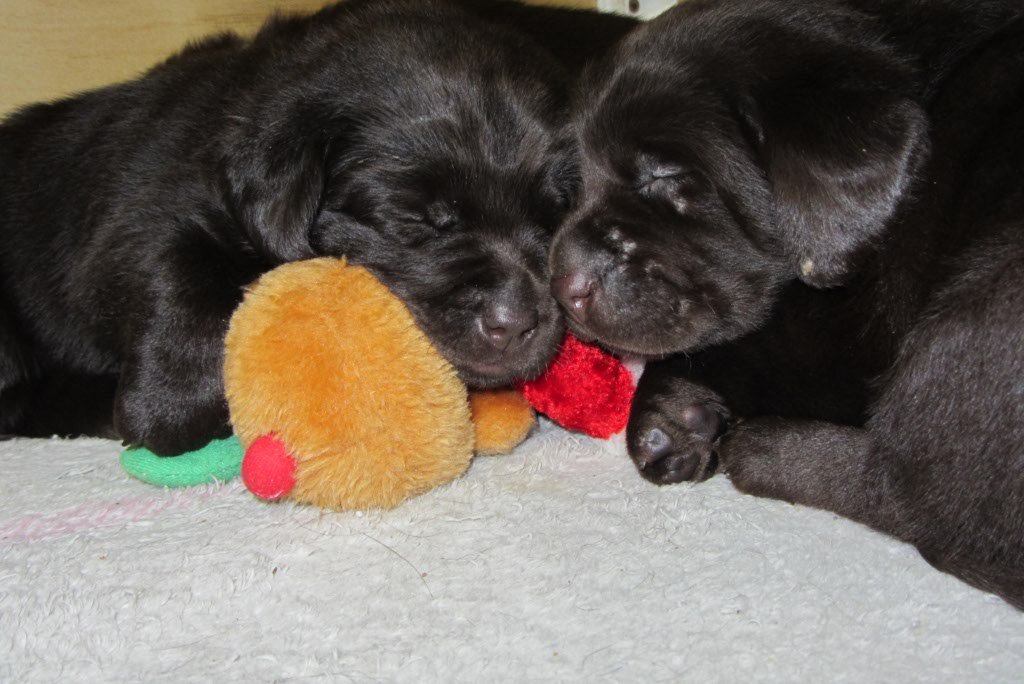 Dessert --- served by the real MOM!!

After dinner snooze......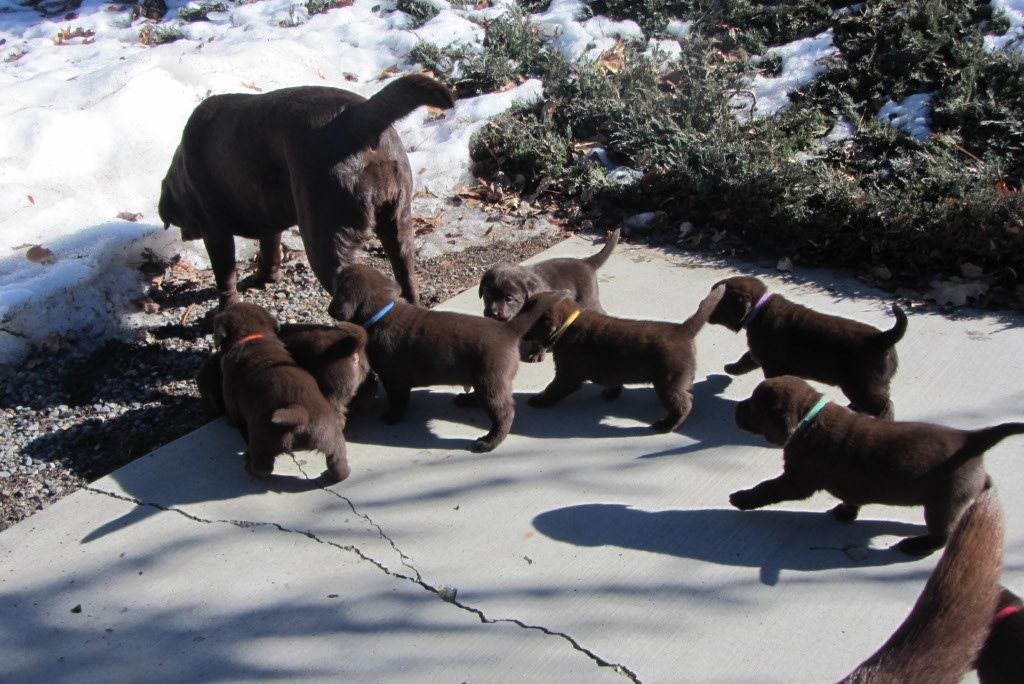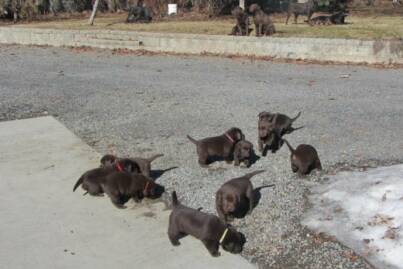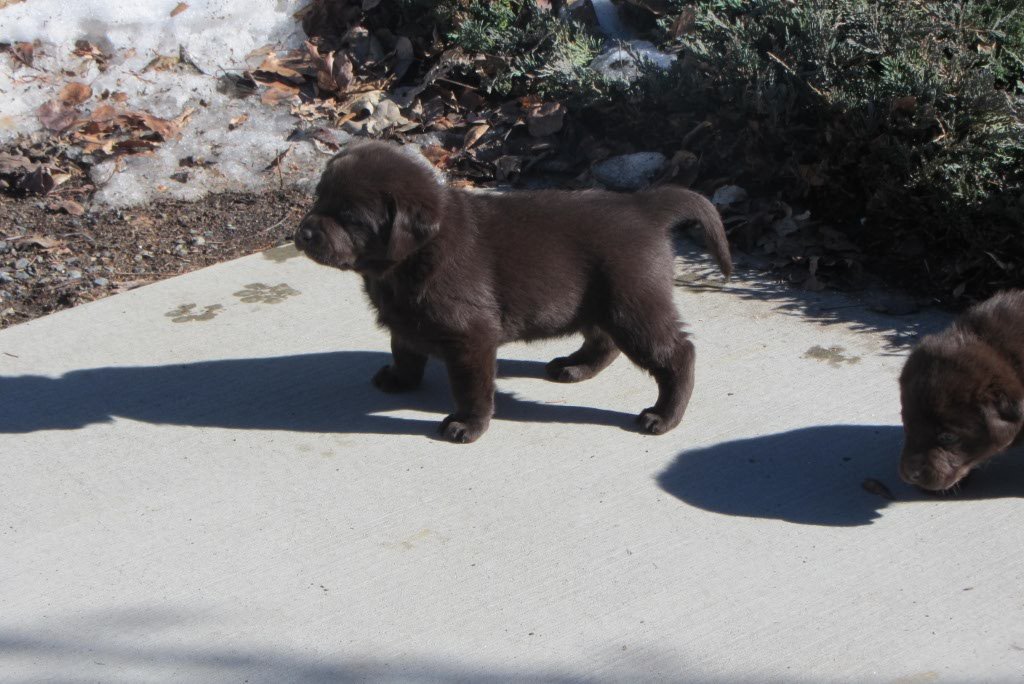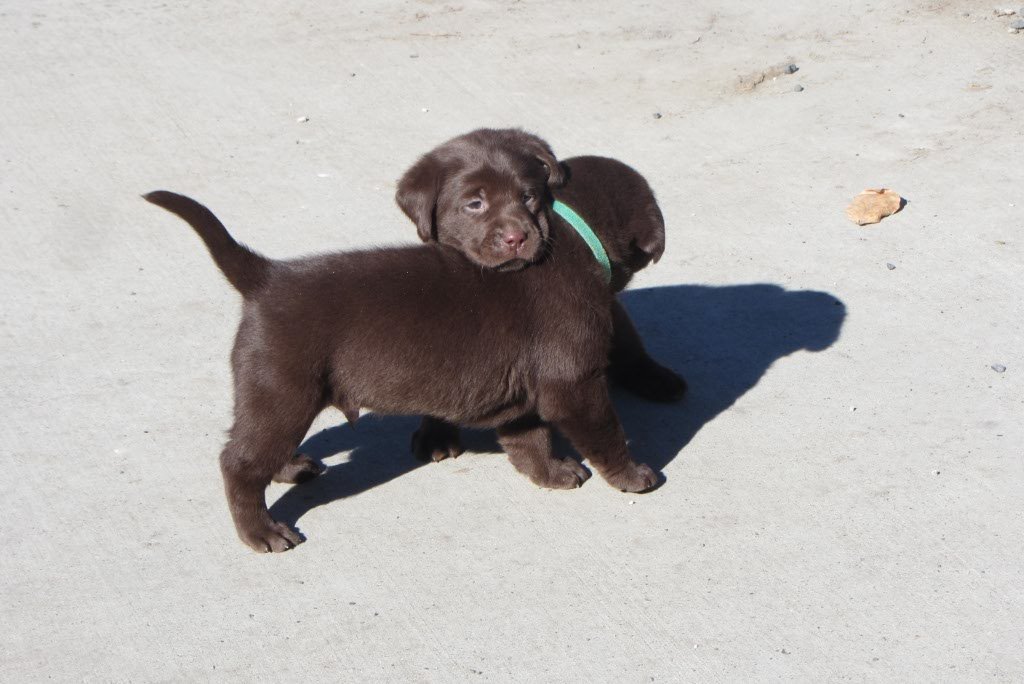 March 10, 2017:   5.5 wks old (well, almost!!!) and life experiences have been kicked up a notch for these pups!!!    We've already taken TWO car rides (puppies secured in crates of course!) this week.  Family visitations began on Thurs, and we will have several more this weekend.   Outdoor play time has continued as weather cooperates, and I am seeing the confidence build each time.... in no time at all I know I'll be pulling my hair out trying to keep track of them all.  Cuddle time one on one in the house/ family room or office has begun as well.    Today, the pen was expanded a bit to add in the "agility tunnel", which they took to right away.  Also loved that they could enjoy the fresh air (and blowing leaves!) from their humble abode.. it was nearly 60F today!  Yea!!!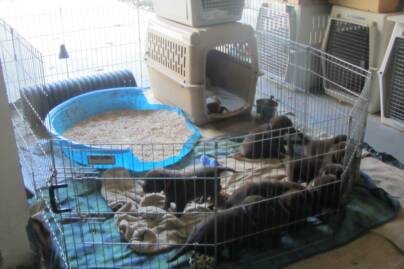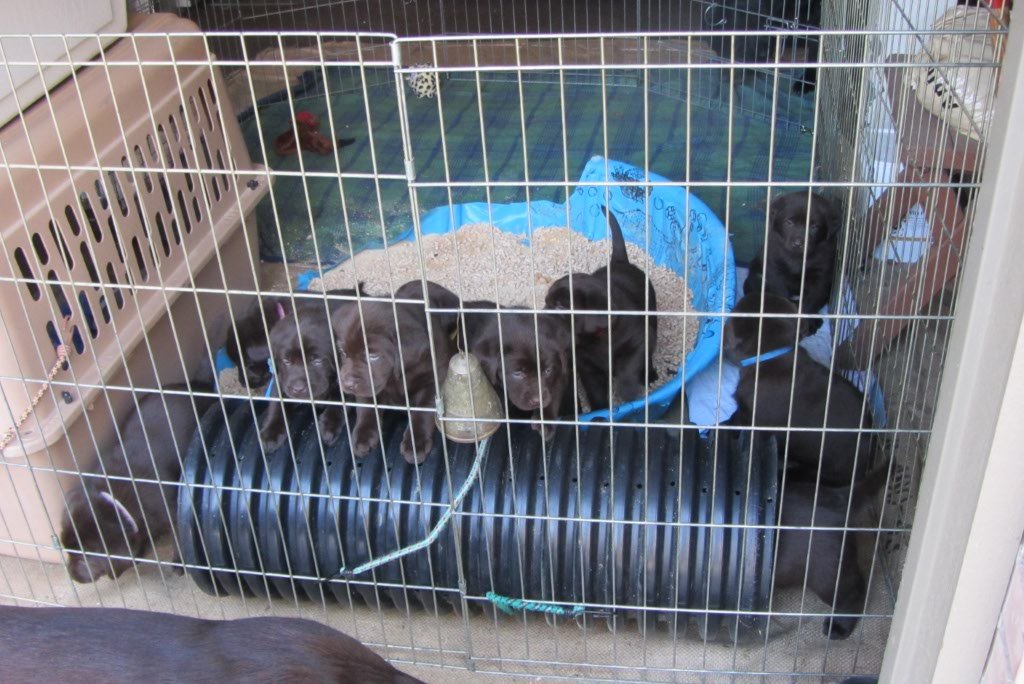 March 15, 2017:   Mama Macie has returned home to her family as it was time to let her dry up the rest of the way and get her girlish figure back so she could resume some hunt test and obedience training.   The pups are 6 wks old now and are ready to explore the world (well, at least my property)!  Yesterday they were most of the way down my big field in no time at all and having a ball with their big dog chaperones and myself.   I actually had to bang their dinner dish a bit to get the last 4 to come in-- they were just having so much fun!!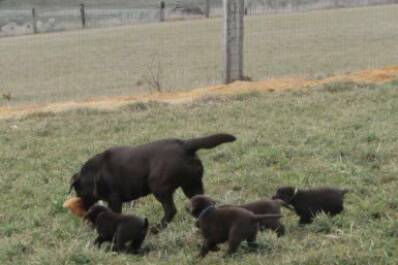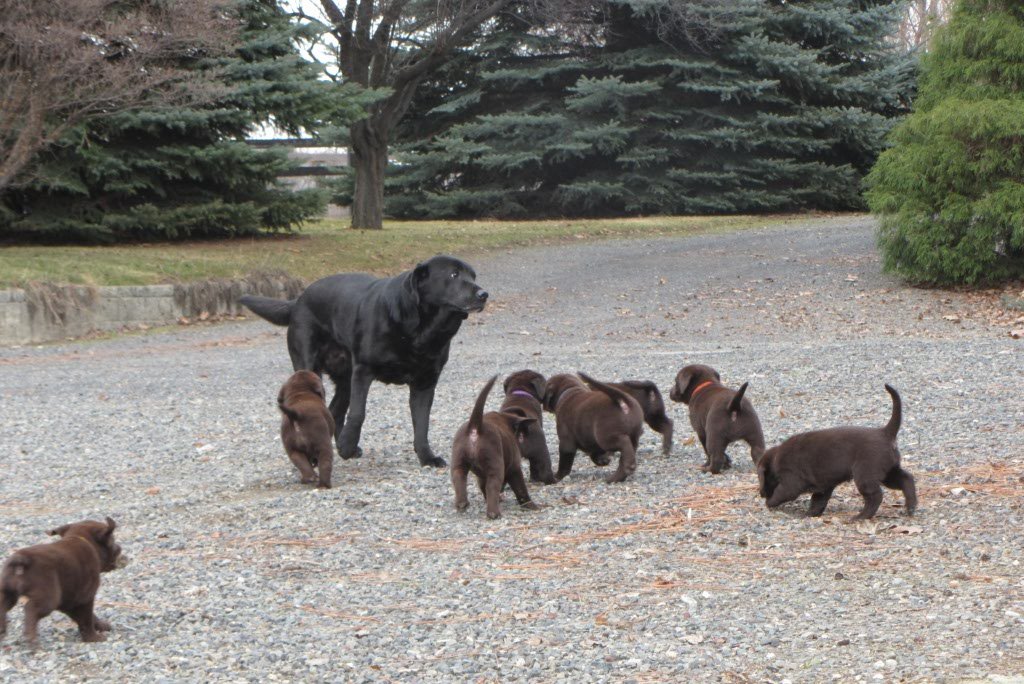 We love our Cousin Ruby!!!!

Poor Mata!!!  She's getting attacked by munchkins!!!

March 19, 2017:   We are 6.5 wks old and range from 8.1 to 10.6 lbs already!  And did we mention, we are getting VERY BUSY lately???     Today was great 'cuz our nanny (Anne) decided to stay home from an obedience trial and play with us instead.  So first thing this morning, we got to meet and chase live pigeons!  Boy was that fun!!!   Then once our "brace" (3 to 4 of us at a time) got to play w/ the birdies, she loaded us up into a crate in the car so we could go visit the Gun Club down the road a mile and meet some really neat guys.  Some of them even asked to hold and cuddle us...    THEN, as if that wasn't enough, we took a longer ride out to another friend's house who was taking care of our nannie's big pigeons for the winter.  We brought home 2 YUGE white pigeons, but our nanny gave them to another friend for the time being and said we'd trade later.  We apparently are playing with his smaller pigeons since we are little and he has a bigger puppy (and a 3 yo cousin of ours!).   All very confusing to our little minds but there seems to be a local network of friends and birds?  Whatever, we had great fun and are now very tired!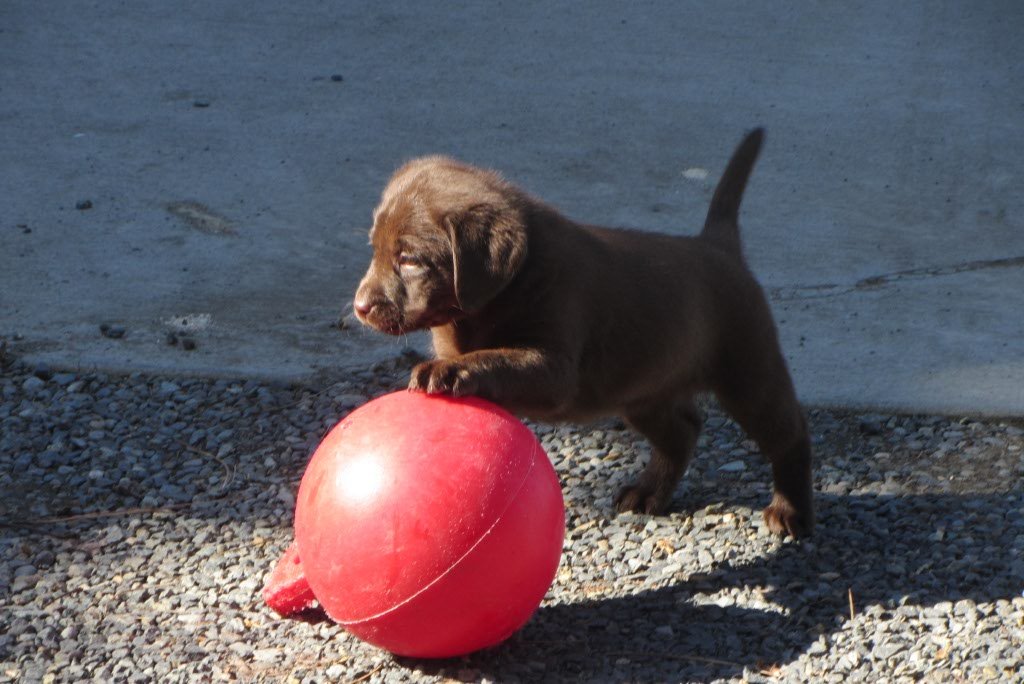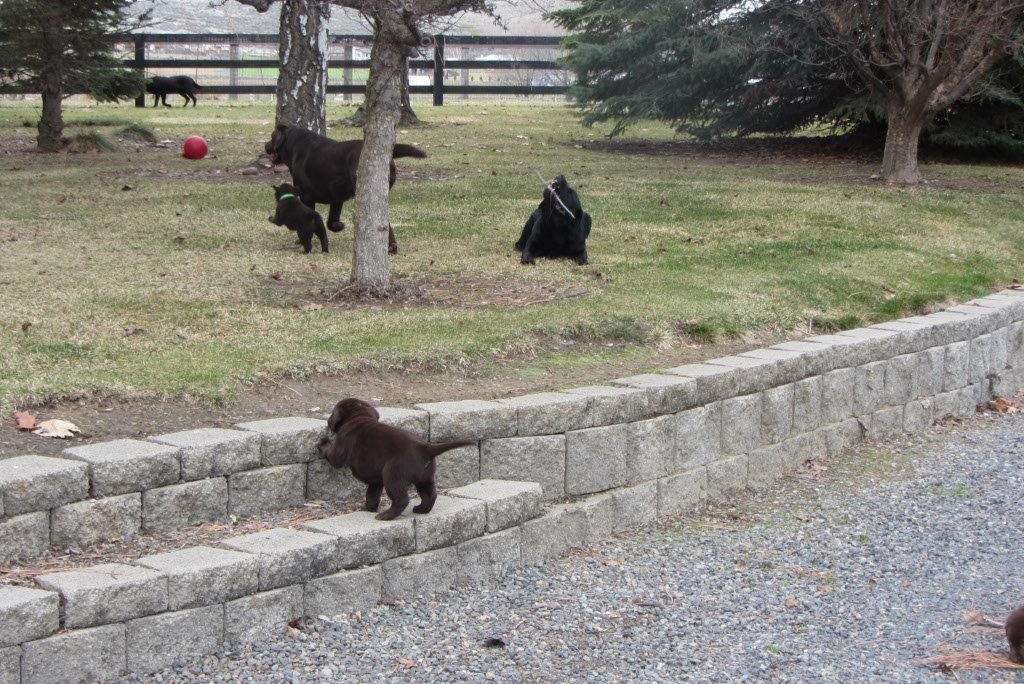 Recess with the big dogs as playground monitors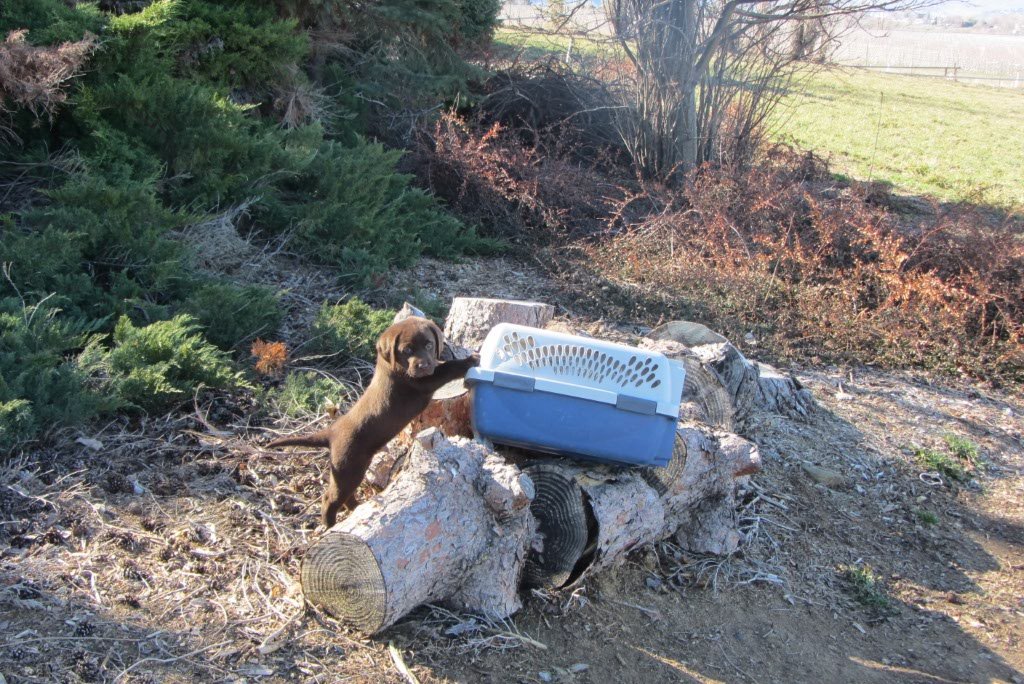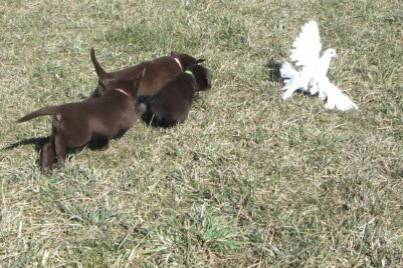 Birds!!!!!  Lookie... I found some BIRDS!!!!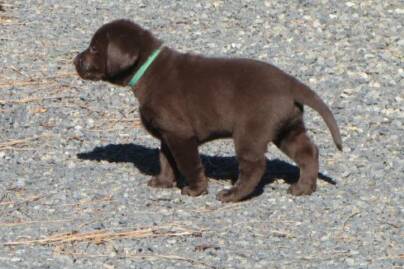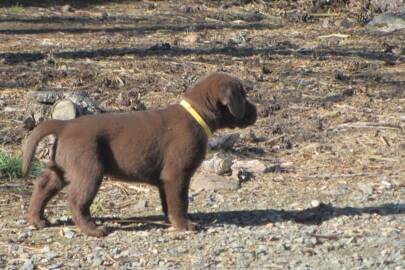 The puppies are starting to look like little dogs now!

March 23, 2017:   7 weeks and change here. Happy National Puppy Day, btw!   I am thinking the puppies got that message well in advance or me since at 1230am, a party ensued here.  I tried to break it up but no... not much sleep for me last night as it went on for a couple hours at least!    Today was our scheduled vet well checks (all went great!!!) but in addition, I decided since the pups were so full of themselves overnight, it was time for combo vaccines this am too.   We are now just looking at the Health clinic on Sunday to give the final blessing on eyes here, then I can just focus on final evaluations!   Oh yes, weights now range from 8.9 to 11.9#.   Definitely solid little puppies!!!

March 27, 2017:   Yesterday was our big Eye clinic day with the Yakima Kennel club clinic (which I chaired) and I'm happy to say all 10 puppies passed their checks  just fine as did all of my adults. Tomorrow starts final visits and selections.   The puppies have no idea what is going on-- they continue to just have fun!  What is great is that all of them are very comfortable on the evaluating table etc  and it shows consistently in their vet  exams too. :)