Macie x Macklin Litter Diary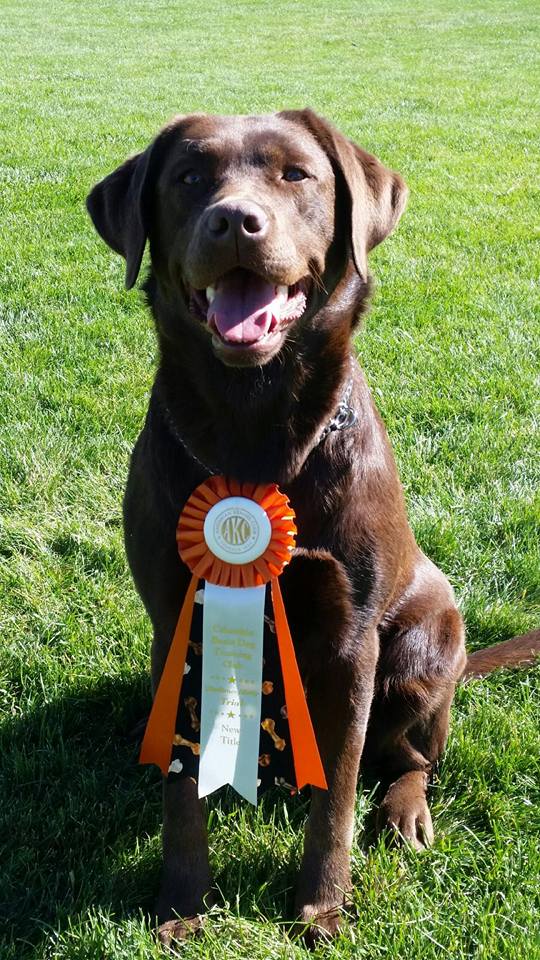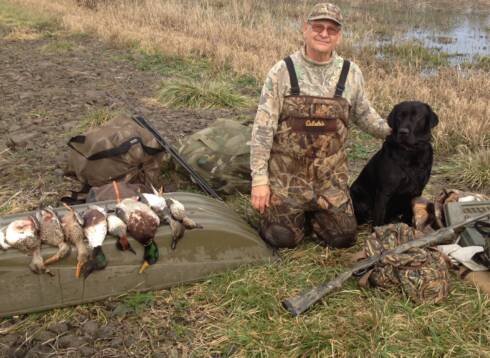 WindyCanyon's Lethal Weapon RN

Plus: Eyes cleared annually since 8 wks

Cardiac Normal (Auscultation)

EIC Clear by virtue of Parents (and DDC)

HNPK Clear (DDC)

WindyCanyon Macklin-Z JH (and his human daddy, Don!)

January 2, 2016:  Macie started into labor last night, and presented first puppies after 630pm.    Surprise!!!! 4 days early and yes, it was a "Rainbow Litter" (all 3 colors).  My first since 1997.    Welcome to the "Dirty Dozen"... 4 Blacks (2 boys, 2 girls), 3 Chocs (2 boys, 1 girl), and 5 yellows (3 boys, 2 girls).   All weighed from 11.2 oz to 13.8 oz, so not bad!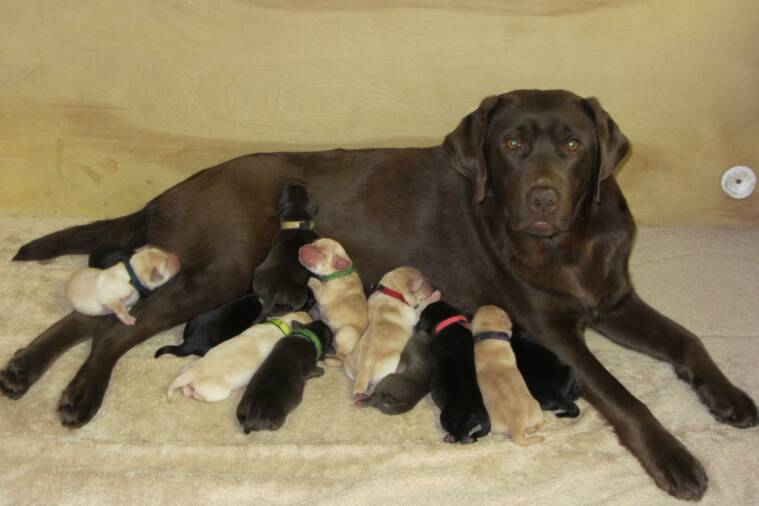 January 7, 2016:  Had dew claws removed today.   It is a balancing act to determine when to do this procedure when puppies are born so early but I wanted to see some significant weight progress and this worked well. As of last night, 9 of 12 already tipped the 1 lb mark!    All were just fine... though the "Dirty Dozen" kind of lived up to their name at the clinic....  ;)

January 8, 2016: 
All 12 of the puppies now surpassed the 1 pound mark!    Yippeee.   Range of weights tonight was 1.0 to 1.25 lbs.    Started the "Biosensor" (Early Neurological Stimulation aka Super Puppy) program a few days late.  This program will continue daily thru ~day 19 or 20 since this litter was born 4 days early.   For more information about this program, click here: 
Early Neurological Stimulation
January 12, 2016:  Ten days old!    Puppies now range in weight from 1.25-1.65#. Weight gain is slow but steady, so that's good.   It's taking a lot of supervision to ensure everyone is getting enough time at the milk bar, so daily (and even 2x a day) weights are necessary.  After weighing tonight, I clipped *192* toenails.  They sure are strong!   Hope none of my pet owners ever complain about cutting nails on one dog to me because that was just the one litter!  ;)

January 16, 2016:  Two weeks old and we are now 1.65 - 2.0 lbs.  Growing slow, but hey there are lots of us fighting for the best milk bars so we are STRONG !!!  Builds character, right?   We overheard our nanny mention there may be some gruel coming soon cuz some of us look like we can lap up milk now.   We'll see...

January 20, 2016:   2.5 wks old and 2.0-2.4 lbs now.   Eyes have  been opening over the course of the past 4-5 days and puppies are in between the "weeble/wobble" and getting more mobile stages.    I have offered Esbilac to them the past 2 days, and most are now lapping it up, so should be able to add in a little ground up gruel here soon.    That will help take some of the strain off of poor Macie who is already getting thin despite eating >10 cups of food a day!    I am still doing the ENS program daily and will continue for 2 more days.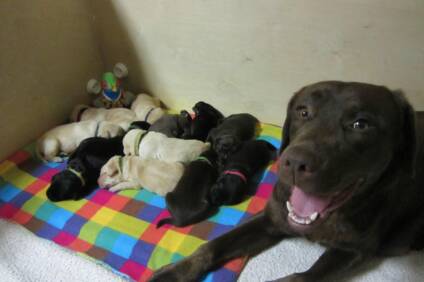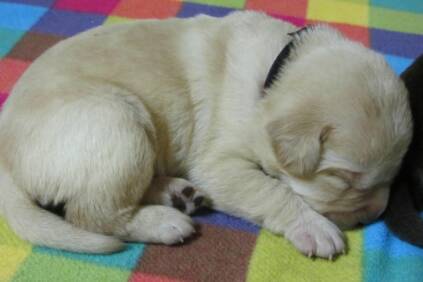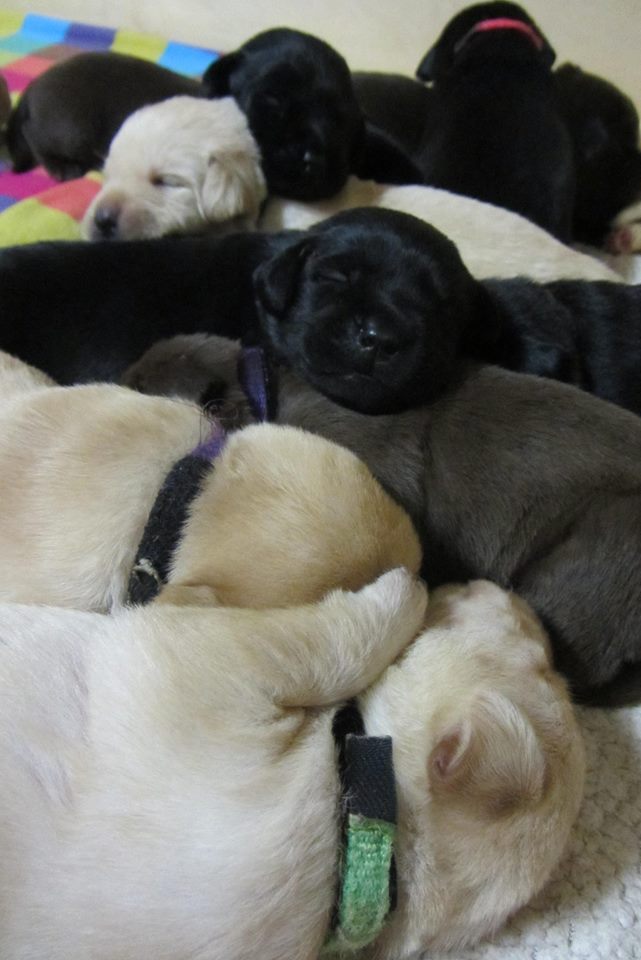 January 24, 2016:   Busy week here!  Puppies are now 3 wks old, eating supplemental gruel 3x per day (out of the big puppy pan!!) and gaining weight nicely.    We are starting to work a bit on potty training and have now finished with the ENS program.   Puppies are getting more playful and noisy by the day!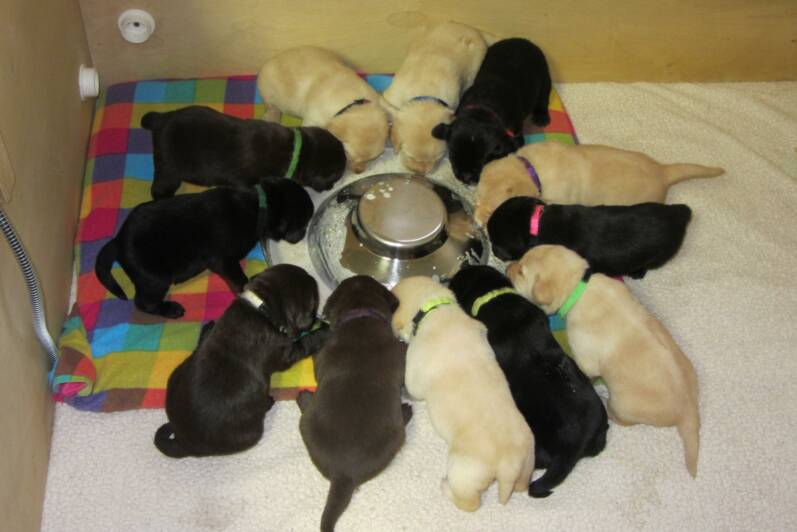 January 27, 2016:   3.5 weeks old and really keeping me hopping between potty training (lots of cleaning involved to keep the rest of the box clean and trying to teach them to "hit" the tray instead), feeding mom every 2-3 hrs (yes, that's right..), puppies every 6 hrs (and making sure mom is nursing in between, and yes, trying to answer emails too.   The puppies are now 3.0 - 4.0#, and gaining nicely.     For those asking, visits will be entertained after puppies are 5 wks old and have their Neopar (1st parvo) vaccine.   There is not a lot to see/determine until at least 6-7 wks as personality trends really won't  be that apparent before that regardless.   They will also be intro'd to birds, getting structural evaluations, eye checks and well checks done that 7th week which all may play roles in the placement process.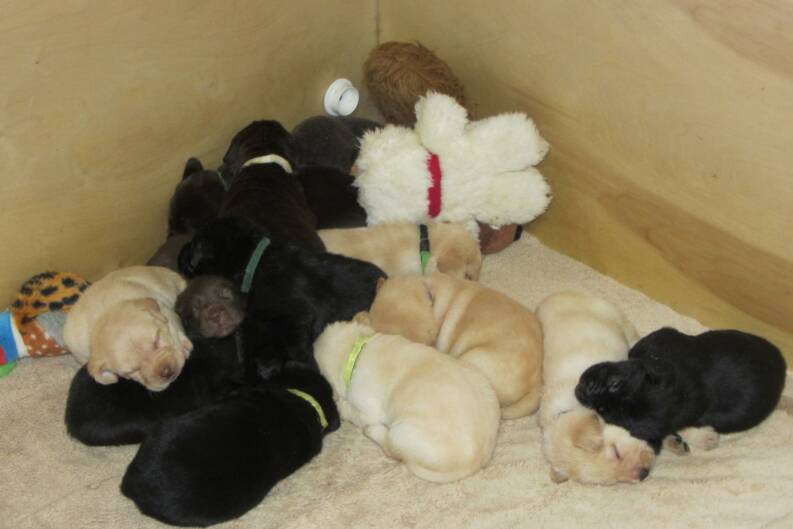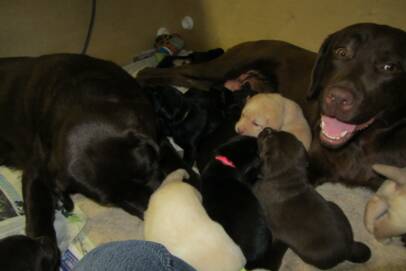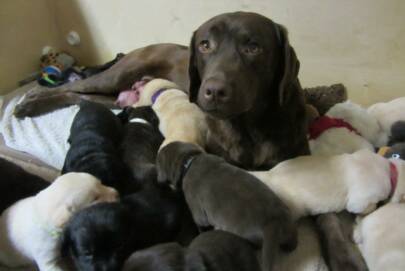 I don't remember signing up for this job!!!!

Look who is being allowed to "help" now!  1 yo Cousin Ruby!!!!

January 31, 2016: 
4 weeks old and up to 4.1 to 5# now!   I dewormed again this weekend and have been doing a lot of "cuddling". So has cousin Ruby!    Ruby was so funny the other night, I took
this video
.  She sure wants to nurse those puppies!  
February 3, 2016:  4.5 wks old and just about ready to move the brood into some new "digs", but decided to wait out the last chilly day here (today, according to weather.com anyhow) so I didn't have to heat the garage too much more.  The new pen is ready, and move out day will be tomorrow afternoon.  In the meantime, the puppies are just eating, sleeping, playing and growing... and probably listening to Dr. Phil about now!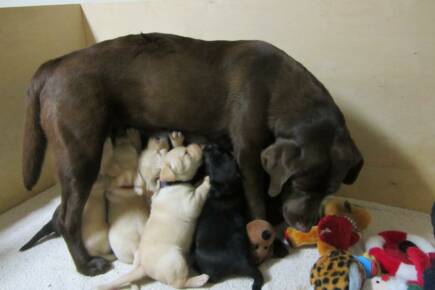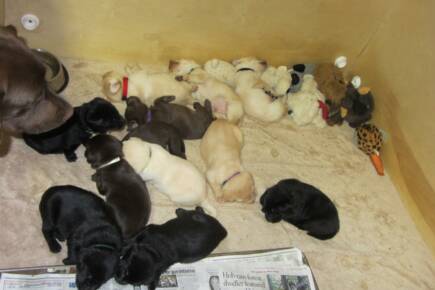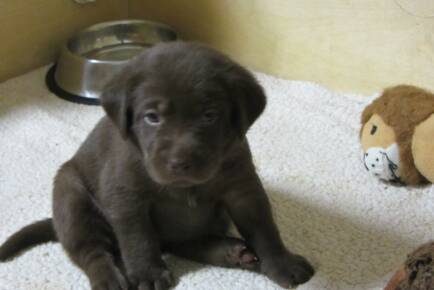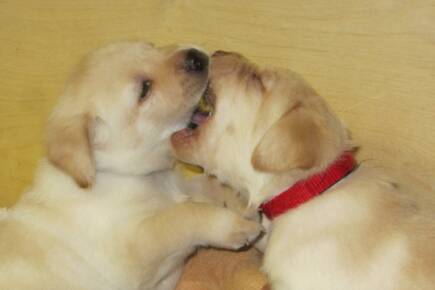 February 8, 2016:  5 wks (plus a little)!   Busy busy time here so you must bear with me.  The puppies were moved to their garage pen last Thursday, got their Neopar (parvo only) vaccine on Friday and on Sunday had a steady stream of puppy visitors all day!    All are doing great, and we're looking forward to being able to get outside for some sunshine and play starting tomorrow hopefully.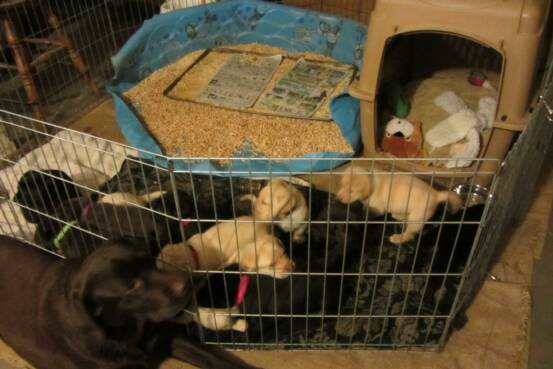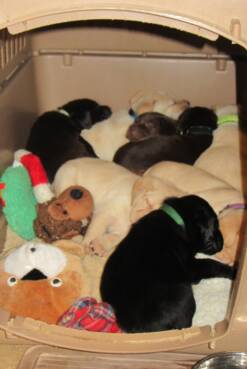 Puppies and their favorite baby sitter, Ruby!

Loving their crate already!

February 13, 2016:  Pups will all be 6 weeks old tomorrow (they were born over the course of 16 hrs) and doing very well.    Weights range from 7.0 - 8.5#.    This week they have had several visitors and have been able to get outside a couple times with the bigger dogs supervising them, and even sniff some duck and pheasant wings!  Today they will get their routine deworming (every 2 wks) and hopefully by tomorrow can take their first car ride.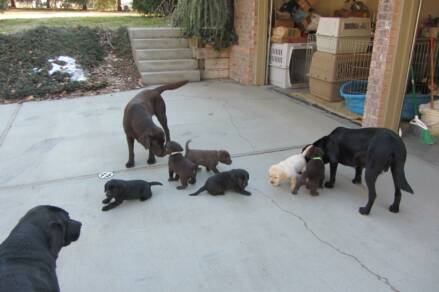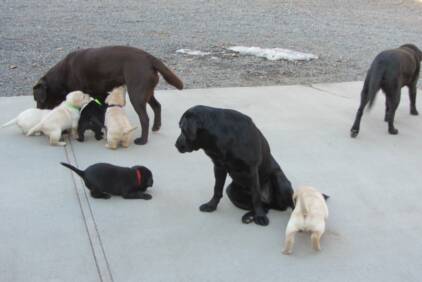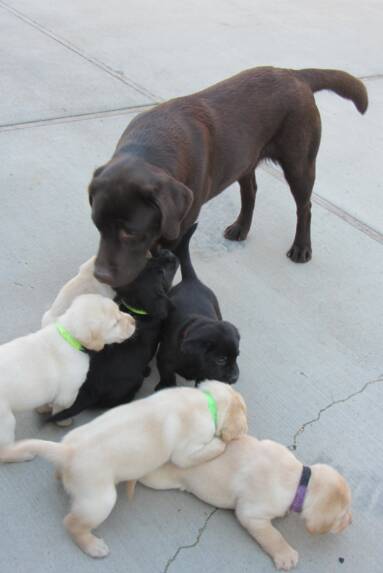 February 17, 2016:  Busy week for the puppies!!! We've had our first car rides and even got to venture out to the big field today w/ Ruby and Kanzi acting as puppy sitters and herders at times!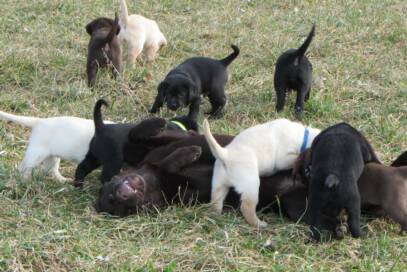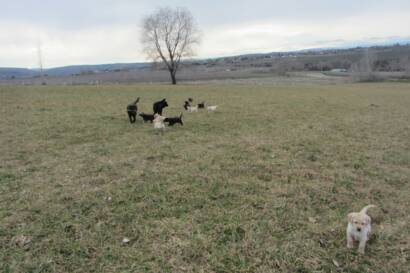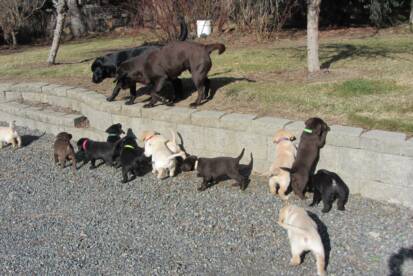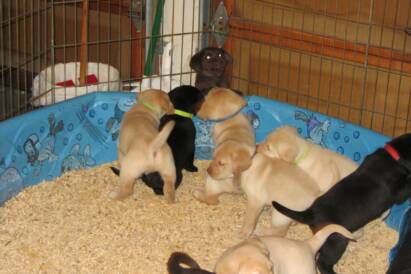 February 21, 2016:  7 weeks old and BOY oh BOY are these pups having fun now!   Last Thursday, the girls got to "meet" Mr. Pigeon (they were still a bit on the younger side than I normally do this, but did just fine), and yesterday all 12 had their fun with the pigeons!   No surprise, but there is lots of natural talent there by the looks of things.  I also use this live bird testing in part to test basic confidence, so even if my families are not hunting types, it's helpful (and did I mention, it's meaningful to my breeding program???).    After we did the bird work, mama Macie's owners helped me w/ the microchipping process so pups would be "official" (permanently identified) for today's OFA Eye clinic.   Hardly even a yip was heard, despite the humungous needle that microchipping entails, but they all go "beep beep" now when scanned... an added perk to buying a pup from me.   All passed their eye exams with flying colors, so that is big hurdle #1 cleared.   :)  Tomorrow they will receive their first combo (DHPPv) vaccine, and on Tues will go in for their vet well checks.   Weds and Thursday will bring more conformation (structural) evaluations as well as more pigeon fun.  Stay tuned...  These pups have some wonderful homes awaiting them and I am looking forward to starting the life long process w/ placements toward the end of the week.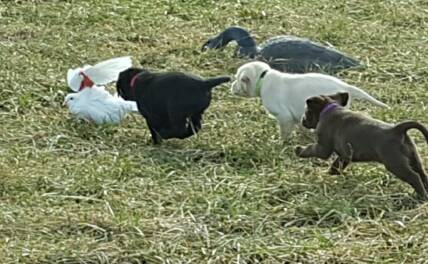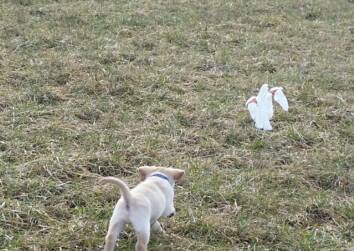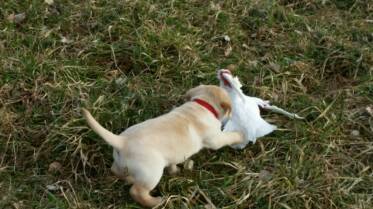 February 25, 2016:  7.5 wks old and well checks are all behind us now!    We've been doing structural evaluations and photo sessions and a few other evals yet this week.    We are ready to start integrating into our new homes...  and lucky homes they are!!!    :)   Here are an assortment of structural photos from the litter at ~7 - 7.5 wks.