Tango x Turbo Litter Diary 5/6/2016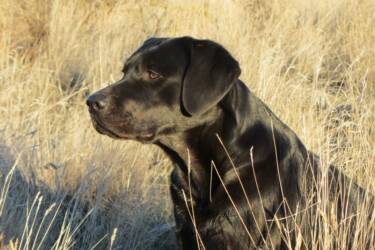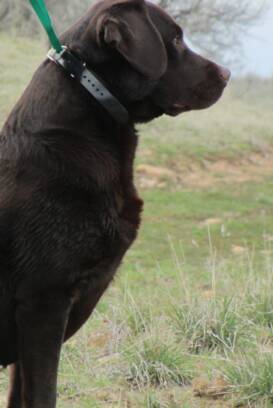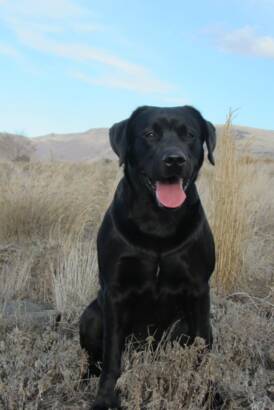 IntCH WindyCanyon's SweeTango CD RA JH CC "Tango"

WindyCanyon Y-Nott Brown BN RN TD JH NAP OJP NFP THDN CGC "Turbo"

May 6, 2016: We missed Cinco de Mayo by just a few minutes... Puppy #1 (a yellow boy) was born at Pet Emergency Services after a struggle here to get him out.   All was well and puppy #2 (a black girl) was right behind.  We made it home and all proceeded fine thru #7.  #8 (black girl) however, was born without taking a breath.  #9 (another yellow boy) was fine. And with that, we were done at almost exactly 12 hrs after puppy #1 was born.  It was fairly smooth sailing conditions after that w/ the 8 living.  Final breakdown was 4 Black females, 1 yellow female and 3 yellow boys.    All pups are very vigorous.

May 9, 2016: Today was the pups' actual "due" date however, ended up their "dew" date!  Dew claws were removed via laser today at Tieton Drive Animal Clinic.  All went just fine!   Pups are gaining weight very nicely now.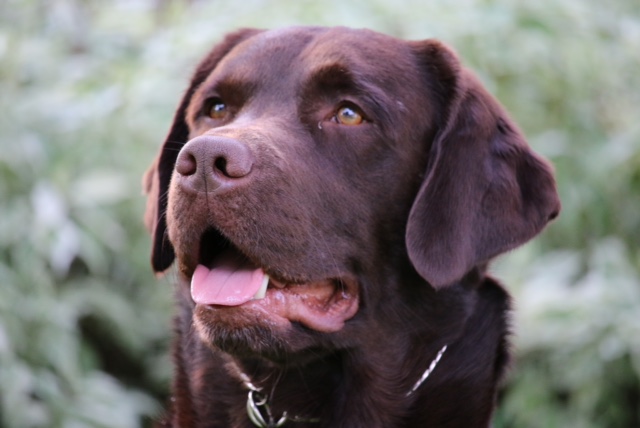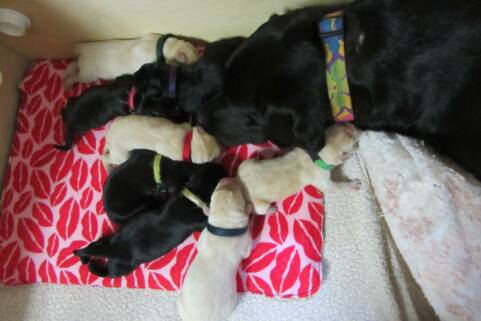 May 11, 2016: Puppies are 5 days old now and continue to gain weight nicely.   The yellows are getting more pigment by the day (yellows are born w/ pink pigment) and all are quite vocal if mom isn't right there handy to feed them when they are hungry!!!!   I managed to get 2 hrs of sleep in my own bed this morning at least-- but it comes at a premium!  I otherwise sleep in the basement w/ mom and pups.  

May 15, 2016: Do you think the apple falls far from the tree?   My friend (has bred Goldens for years) came to visit today.  Doesn't Tango look stressed?   hehehe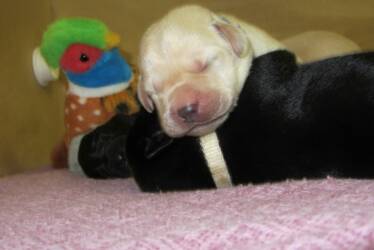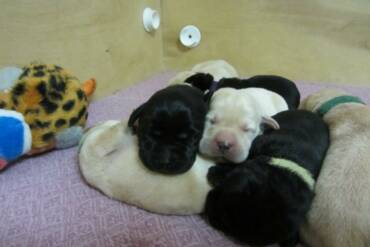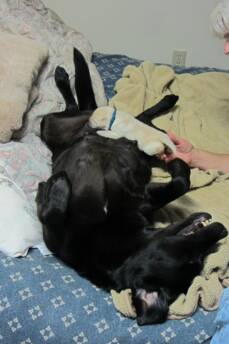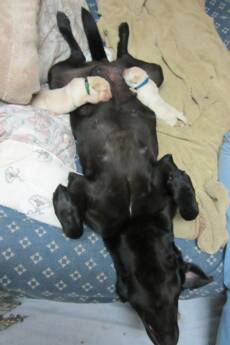 May 21, 2016:   Two weeks old, eyes are opening, and getting cuter by the day!

May 23, 2016:   All the puppies are now enjoying crawling up into my lap for cuddles when I sit in the box, so while I was being mobbed, I also dremeled nails today.   I have been clipping them up to this point every few days (nails grow incredibly fast on babies!) but since the pups are finding their "voices" the past couple days, I take that as a hint they are beginning to hear a bit more too.   Hence conditioning to the noise and vibration of the dremel, not to mention the dremel leaves the nails smoother.   The last day of the Early Neurological Stimulation (Super Puppy) program was yesterday at day 16.   I've made some notes as to who I think may be a bit mellower etc, so it's always fun to see how or if that matches up with personalities in the end.    Puppy weights range from 2.0 to 3.0 lbs today at 2.5 wks old. 

May 27, 2016:   Three weeks old!!!   About 4 days ago, I noticed the pups were already gravitating toward some exposed newspaper in the corner, so I set up a potty area which they are using quite well!  Precocious bunch!    I also decided they seemed to be wanting for more calories, so offered up the first batch of gruel.   They DOVE in!!!    I am now feeding them 2 meals a day to help out mama Tango.    In that short of time, weights are already up to 2.6 to 3.8# and they are sleeping a lot longer (which makes Tango happier too!).   

June 3, 2016:   Four weeks old today and now ranging in weights from 4.0- just shy of 6.0#!!!   I did their 4 wk deworming and added in a midday meal today.  Tango is still nursing every 4 hrs or so, but is getting more particular about how she nurses and prefers nursing outside of the box... I wonder why...  She looks a bit cramped when she has to nurse in the box, doesn't she???!  Just a few more days, and we'll all get moved to a bigger area, but first, I want to get past the 100F heat wave that is coming in tomorrow.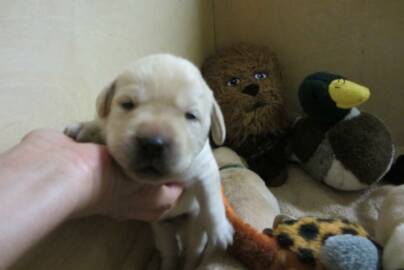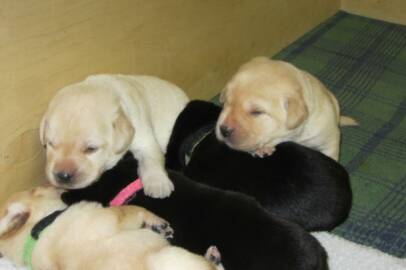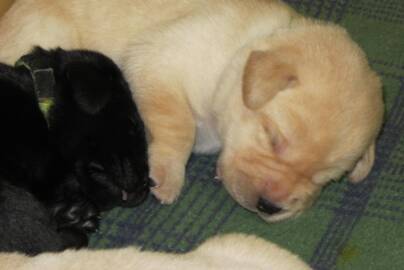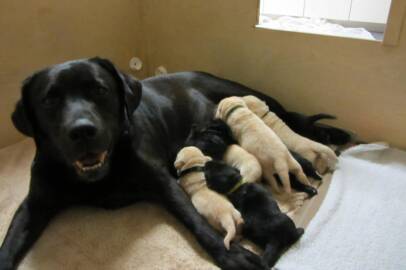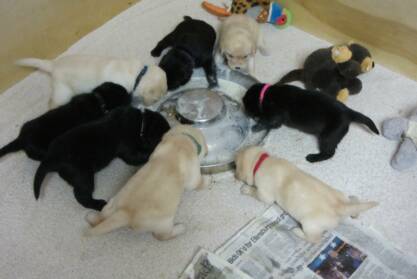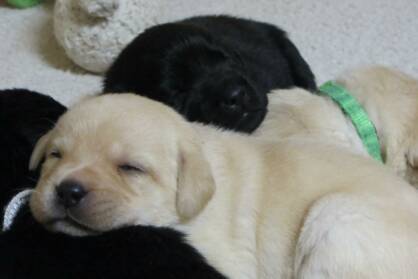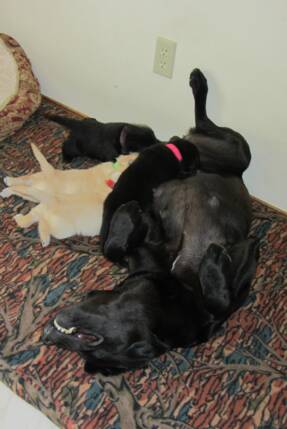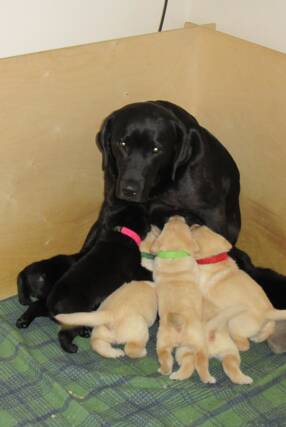 The smaller team earned a semi private session w/ mom

Ughhh, it's getting WAY too crowded at this bar!!!

June 7, 2016:   I managed to get the pups outside this morning before it got too hot (thankfully temperatures are going to be more normal starting tomorrow).   They had a good romp w/ mom and cousin Ruby, a short "swim" in the kiddy pool, and now are enjoying a nap in their soon to be new home in the garage pen.  They will likely return to the basement box for the rest of the afternoon and one last night as it will probably get too warm even in the attached garage soon.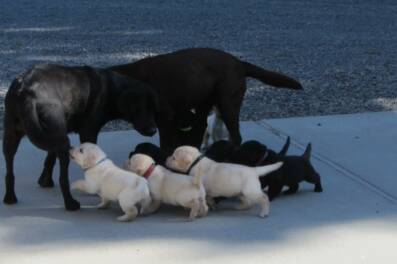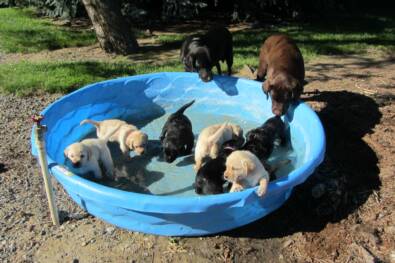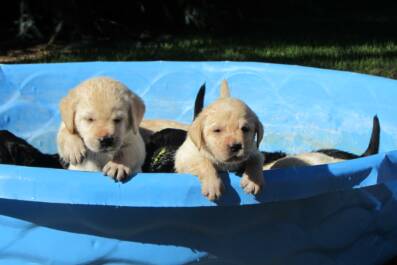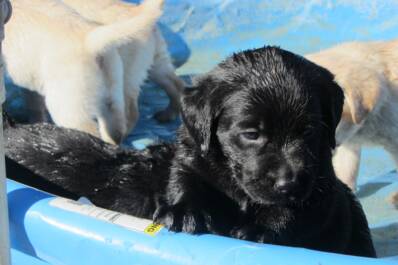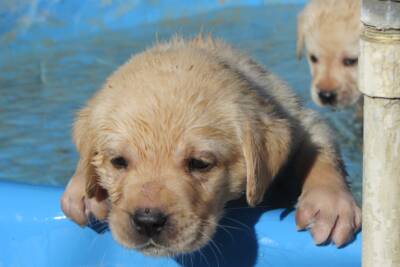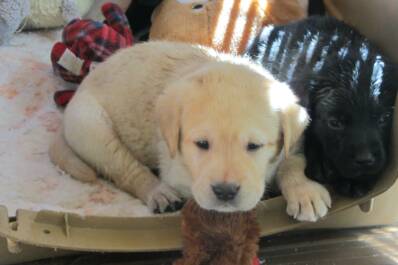 June 12, 2016:   Pups turned 5 wks old on Friday!!!   They've really been enjoying their new pen in the garage the past few days and have started to receive more puppy visitors now that they got their first parvo (Neopar) vaccine.    As you can see, they love getting more play time w/ the big dogs too!!!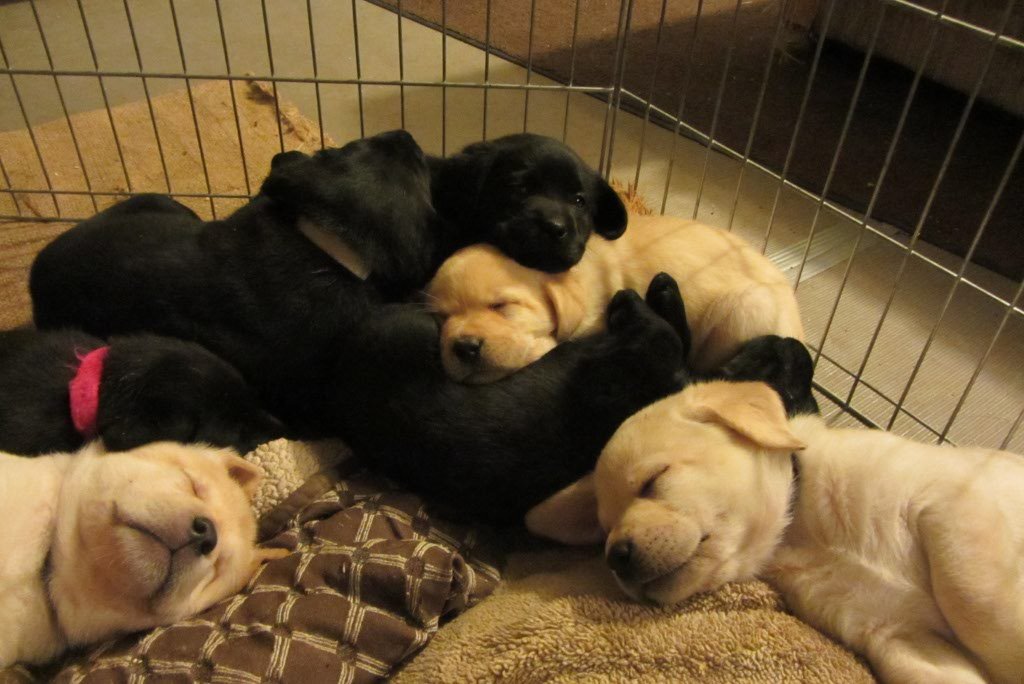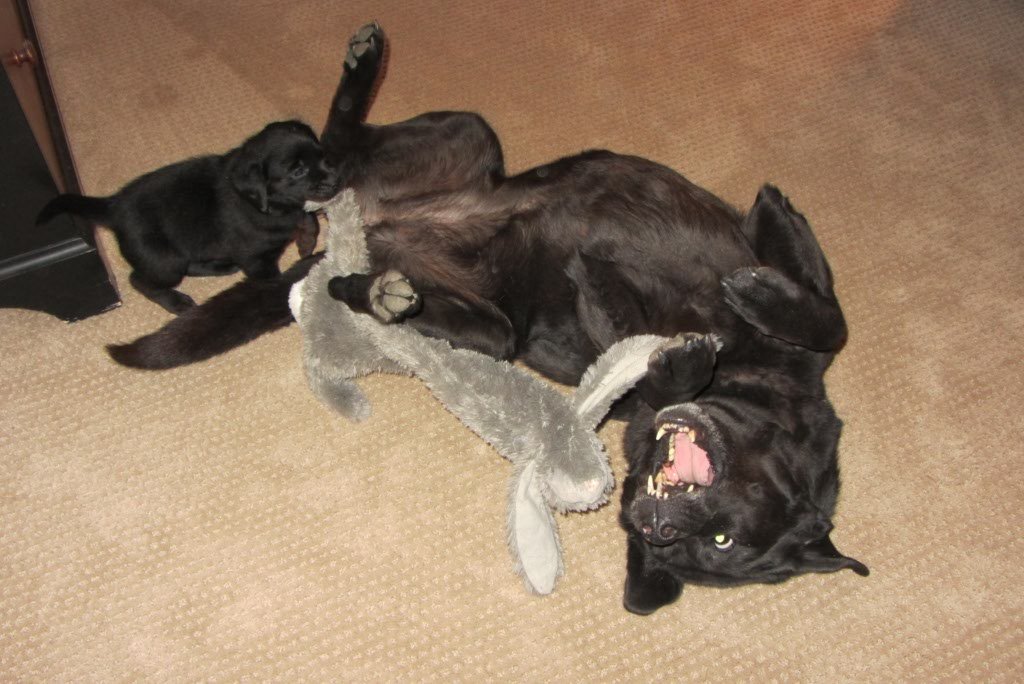 Grandma Mata plays "rabbit" with yellow collar girl

We love our new home near the big dogs now!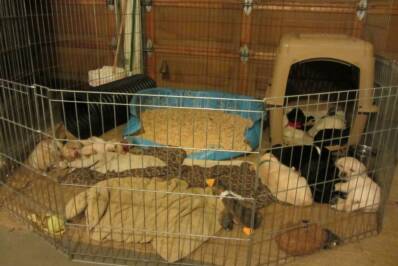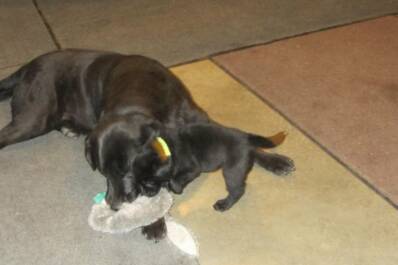 June 16, 2016:   Oh boy, what fun we've had the past few days.  We've met at least a dozen new people, have taken 2 short car rides, and discovered "steps" so now run wild out in a new area of the lawn when out for recess.   Mom is having a hard time keeping track of us at times!  Oh, she says we're starting to eat her out of house and home now too.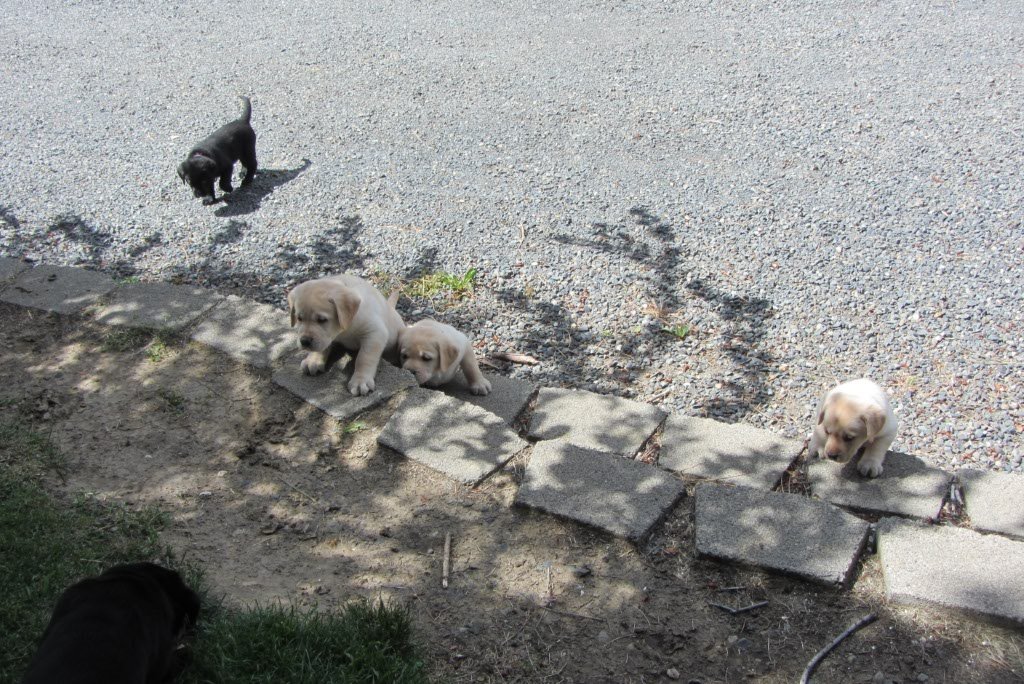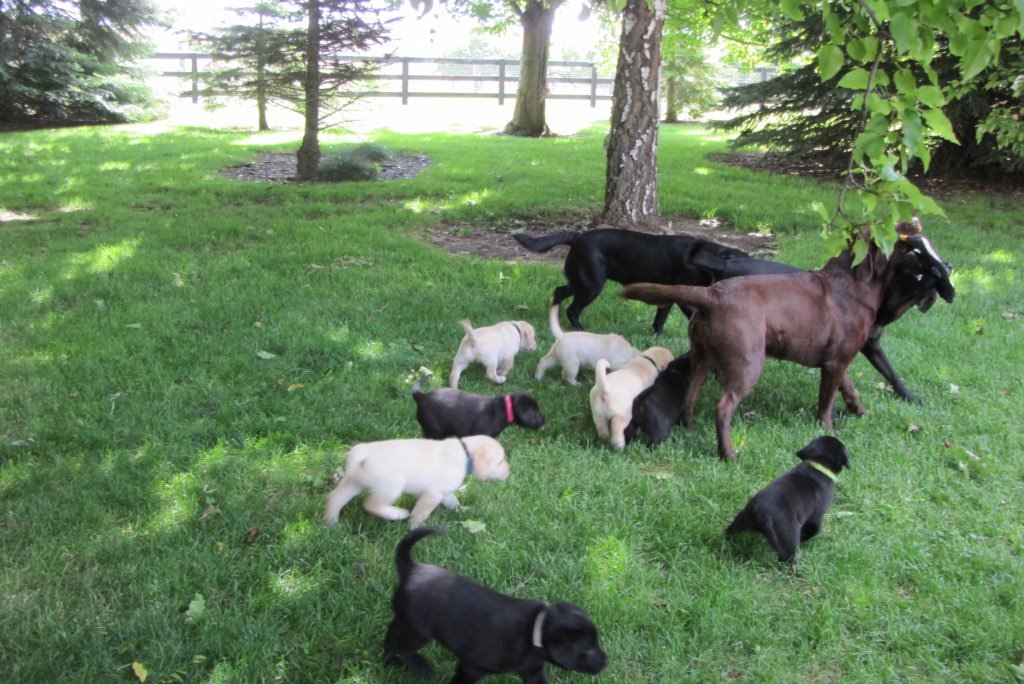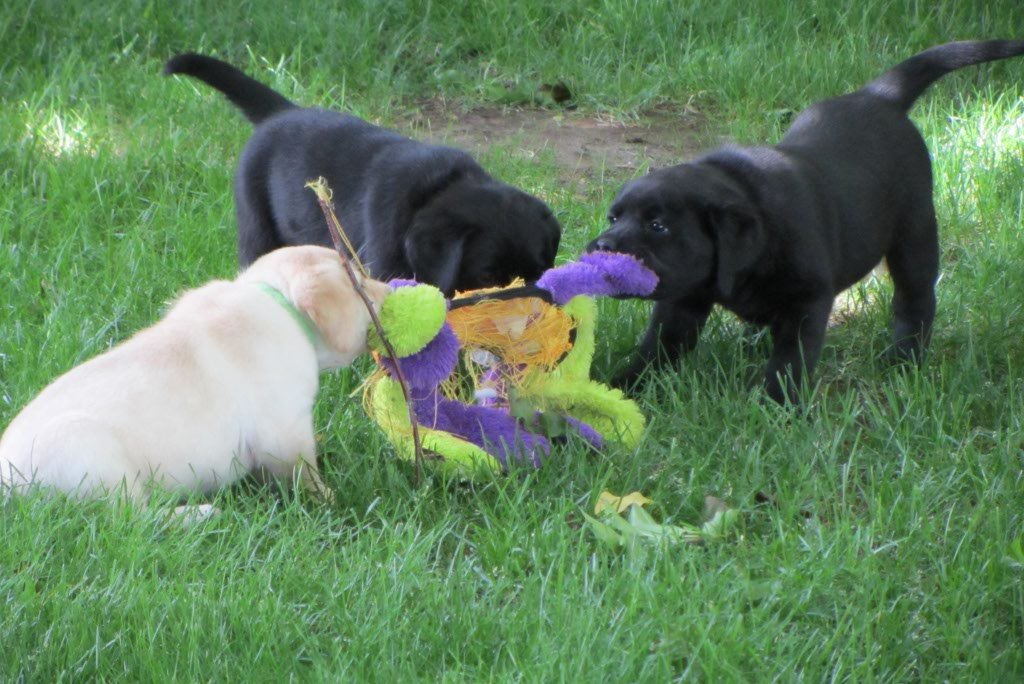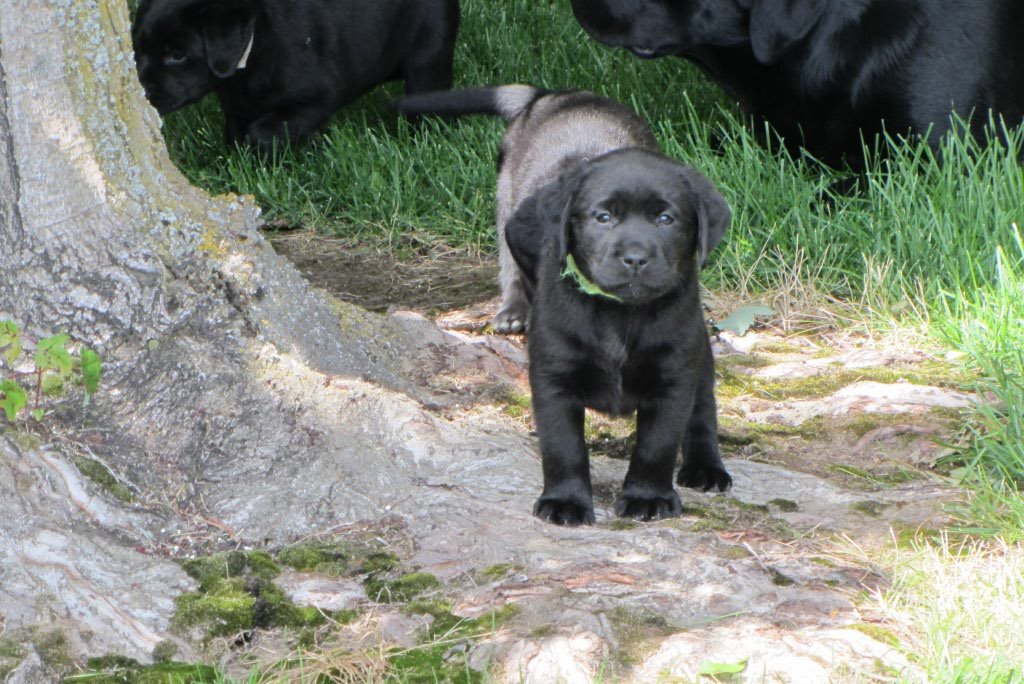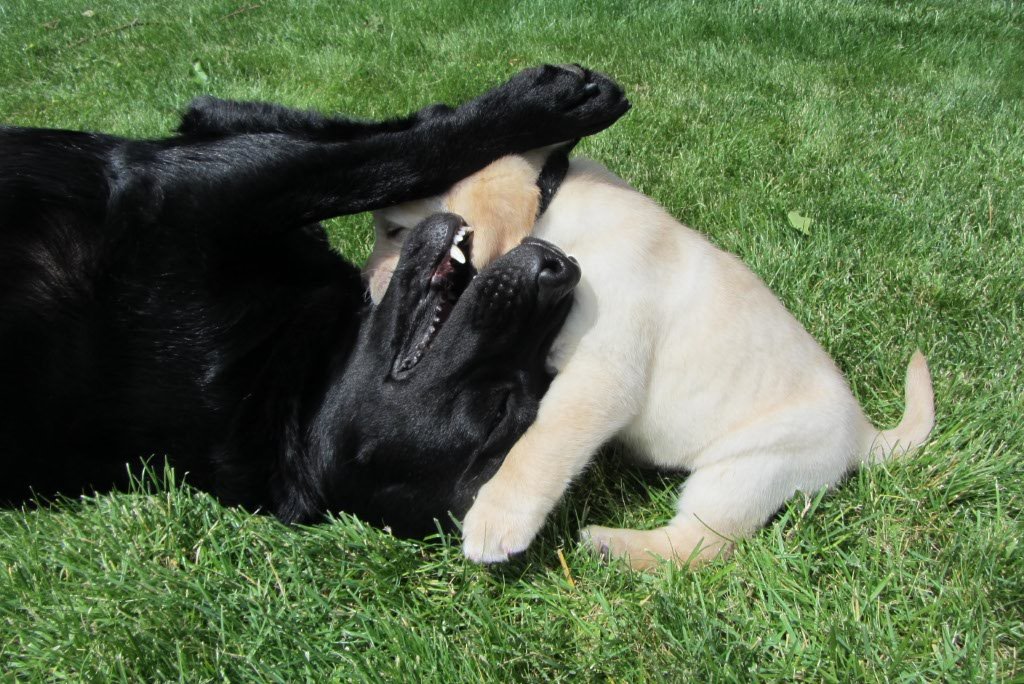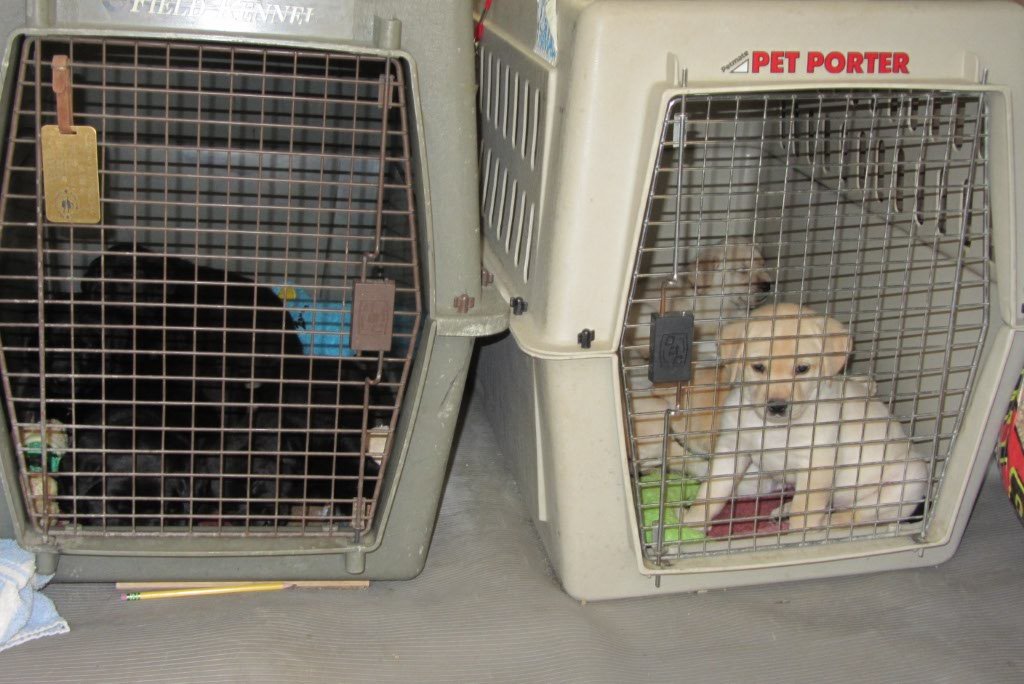 June 19, 2016:   Busy weekend for all of us!   The puppies turned 6 wks old on Friday, so it was time for another round of dewormer.   On Saturday, we had 4 sets of visitors w/ the last set being the Orser family (Macie's family) who helped w/ holding puppies for  that big OUCHIE NEEDLE-- to inject the microchip!!!     They now all go "Beep Beep" when scanned.    :)    This morning (Sunday), they all did their morning play session outside w/ the big dogs as normal, then loaded up in two crates to go visit all the nice skeet shooters a mile down the road at the Pomona Gun Club.  That was fun, so add another 8-10+ new people to the list.  I think we are up to already 32 strangers!  Suffice to say, the gun shots were no biggie.... whooptie do....   We hear so much at our house between cherry cannons and the Yakima Firing Center (military training area), what's a few shot gun blasts???   Wish I had someone else to take pics but suffice to say, I took in 1-2 at a time, sat ~20yds behind the shooters and not even a flinch.  The guys there are always so welcoming too. :)  After that, the pups got to meet the "boys" (pigeons) that they will get to chase later this week.   I think they were interested!  Then once sufficiently worn out from all of that, they had their nails dremelled again.   LOL.   There is a plan here...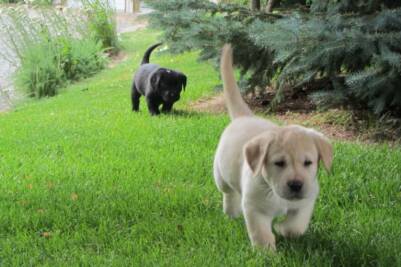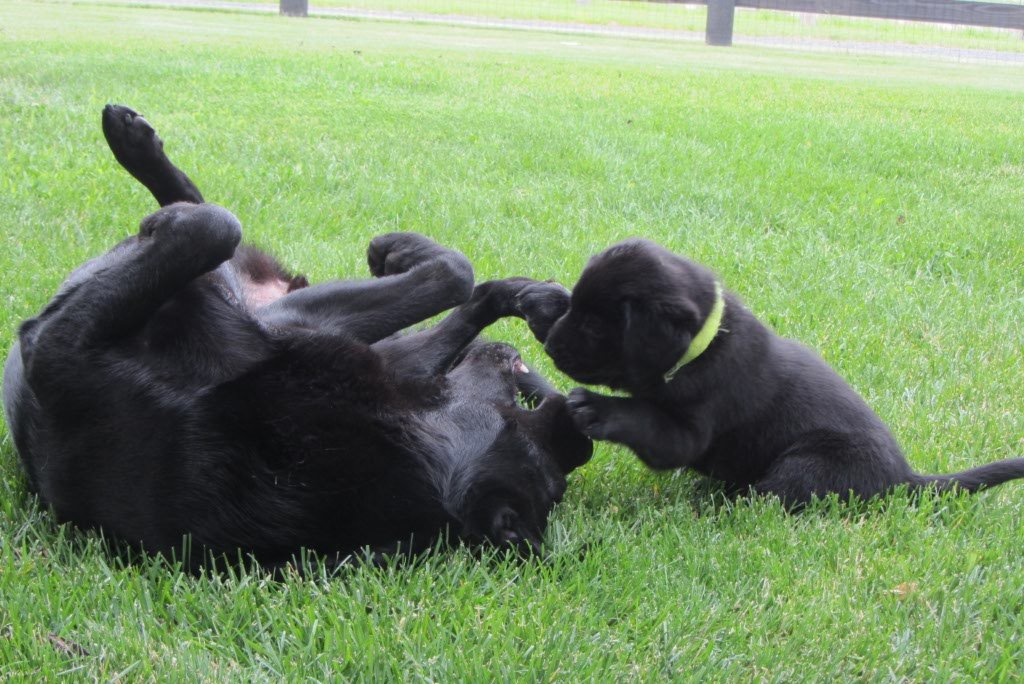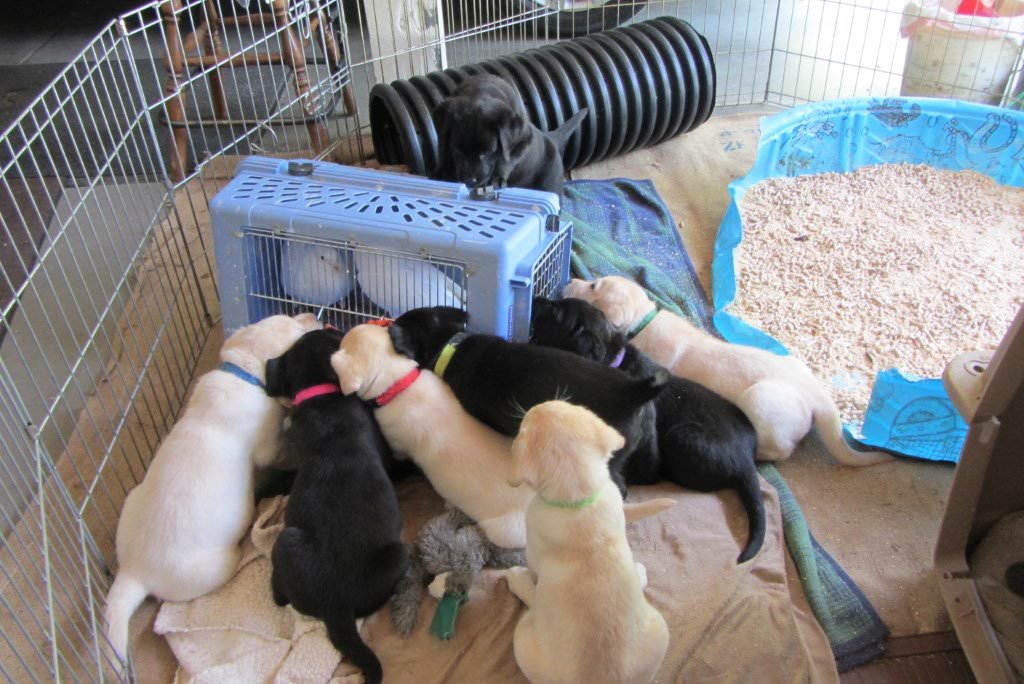 June 25, 2016:   Crazy week!!!  Puppies are now 7 wks old so got their first combo vaccines yesterday.  They are now ranging in weight from 8.5 to 12.5# and eating ~2C each total of food a day.   This week they spent a few hours in the big girls' kennel run and even ate dinner there-- after chasing Mr Pigeon a bit.   They figured out how to break out of the expen twice (or more likely were helped by a certain "rotten" cousin since there were stuffed toys strewn about the yard too... so the gate is now clipped shut as well).  We are gearing up for lots of evaluations and vet checks this coming week since they will start leaving for their homes at the end of the week.   Whew, how time flies!

June 26, 2016:   The pups chased live pigeons in the field today!  Everyone did great and had a lot of fun.  After that they posed for photos for my records.  They are down for the count once again!!!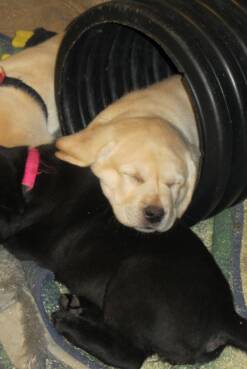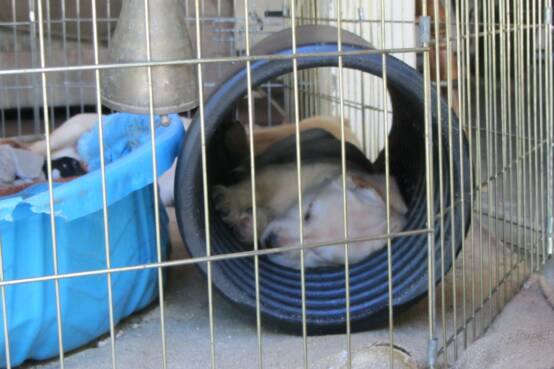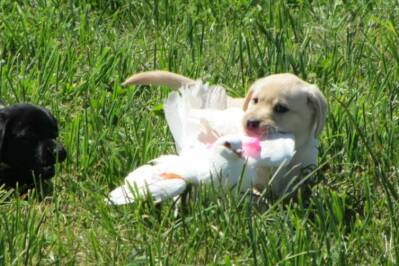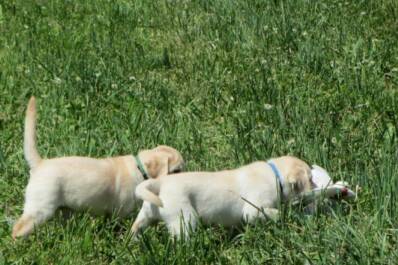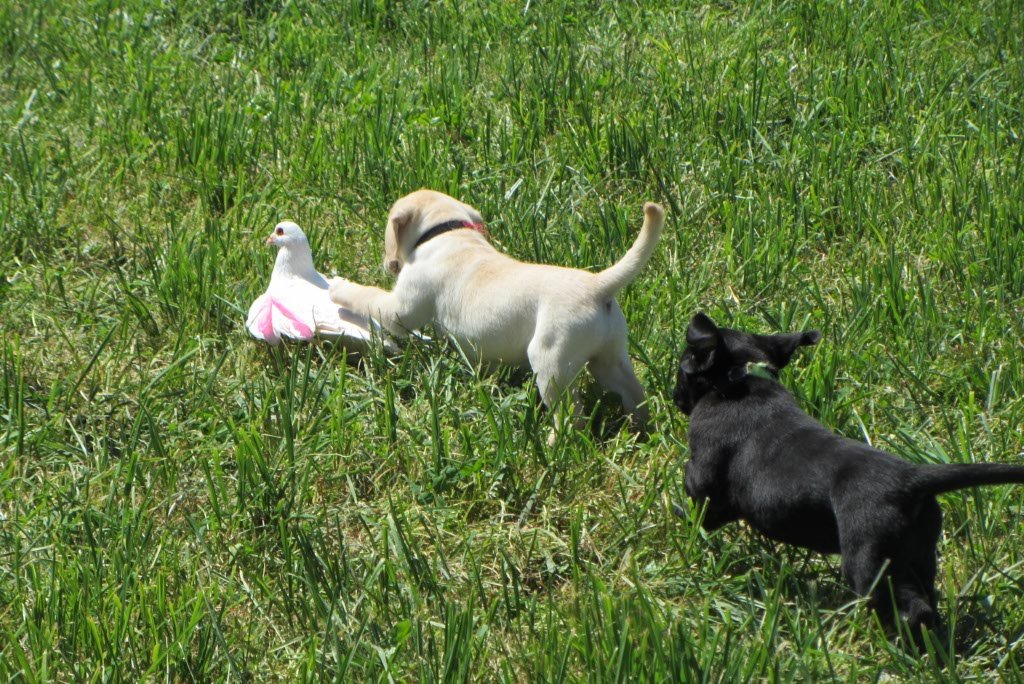 July 01, 2016:   The day we've been waiting for!!!   We are *8* weeks old, yippeee!!!!  This week has been exhausting w/ a trip to Pasco (85 miles each way) for eye exams on Monday and vet well checks in Yakima on Wednesday and a LOT  more play (sometimes resulting in the need for a dip in the pool!!!) in between and since!   First girl (Lime collar/  yellow) left yesterday afternoon for Idaho, and 2 more leave today and Saturday, 1 on Sunday, 1 on Monday, and the last on Tuesday.   Bye bye puppies......  :(